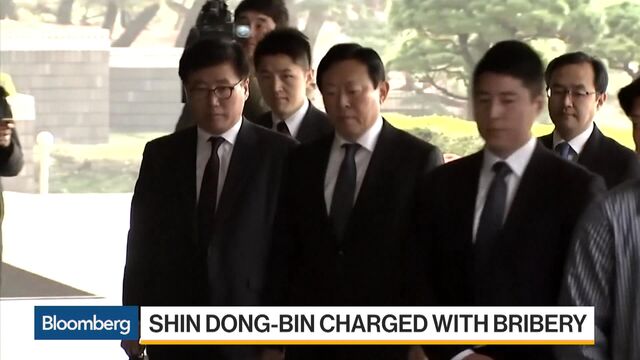 Samsung Group isn't the only South Korean family conglomerate in the crosshairs of investigators. The top executives at Lotte Group, fifth-biggest of the so-called chaebol (Samsung is No. 1), are currently on trial for corruption charges. Lotte Group is also in the midst of a long-running feud for control between the two sons of the founder. And then there's a Chinese boycott of its businesses. Nonetheless, its shares have risen on optimism over a restructuring plan shareholders approved Tuesday.
1. Why were the company's top executives indicted?
In October, the company's founder, Shin Kyuk-ho, and his two sons were charged with crimes including embezzlement, breach of fiduciary duty and tax evasion. In one example, Chairman Shin Dong-bin, the founder's younger son, is accused of selling the rights to operate snack bars at Lotte's movie theaters to a family member at below-market value, resulting in more than 77 billion won ($69 million) in losses for Lotte Shopping Co. Verdicts are likely by the end of the year. Separately, Shin Dong-bin was charged in the bribery case that led to the ouster of South Korea President Park Geun-hye in March and the conviction last week of Jay Y. Lee, Samsung Group's de facto leader. The indicted individuals have all denied any wrongdoing.
2. What's the family feud about?
Control. Shin Kyuk-ho built Lotte as a gum and sweets maker in Japan in 1948 before expanding to South Korea in 1967 while maintaining leadership from Japan. His younger son, Shin Dong-bin, ran the Korean business, building it into one of the country's biggest conglomerates. The Japanese side, under elder brother Shin Dong-joo, remained relatively passive. Then in 2015 came a boardroom coup. It consolidated leadership of the entire group under Shin Dong-bin, 62. Out went his father and brother, who controls about 33.3 percent of Japan-based Lotte Holdings and who has made several attempts to restore control and block his sibling's moves through lawsuits. So far, they've been unsuccessful. Founder Shin Kyuk-ho officially retired from management Aug. 9 and lost his last remaining seat on the board of a Lotte company.
3. Remind me, what does Lotte do?
Its businesses span hotels and amusement parks to department stores, ice cream and chemical plants. With about $100 billion of assets, Lotte is South Korea's largest retail conglomerate. The group has been, until recently, on the acquisitions trail: it expanded its assets to 111 trillion won in 2017 from 77 trillion won in 2011 -- the year Shin Dong-bin became chairman.
4. What did shareholders vote on?
A restructuring plan that was announced in April and that some analysts say will bring greater clarity to the group's operations. Under the plan, a Lotte Confectionery unit will absorb the investment assets of Lotte Shopping, Lotte Food and Lotte Chilsung Beverage, and become Lotte Corp., a holding company. The operating units of each company will become
subsidiaries of the newly created holding company. These moves will pave the way for an initial public offering of Hotel Lotte, a big unit that is 99 percent held by Japan-based affiliates. In October, the group said it planned to list shares of other affiliates and to spend 40 trillion won over the next five years on acquisitions, research and development.
5. How has the market reacted?
The group's four biggest listed companies have wobbled on the Chinese boycott and corruption indictments but jumped over the restructuring plan. Lotte Shopping rose almost 50 percent between mid-April and mid-June as investors welcomed the move toward greater transparency -- a common demand from shareholders in the complicated structures that constitute chaebol. Even so, Lotte Shopping shares currently trade at almost half their peak in 2011.
6. Why did China take offense?
Because Lotte allowed the South Korean government to place a U.S. missile defense system, known as Thaad, on a golf course it sold to government for that purpose. China decried the decision and began a series of regulatory inspections that led to Lotte suspending operations at 87 of its 99 Chinese hypermarkets since March. Lotte Group's plans to build a 3 trillion won theme park in Shenyang, China, are on hold. And China restricted package tours to South Korea, causing Hotel Lotte, the world's third-largest duty-free operator, to report falling sales for the first time since 2003.
The Reference Shelf
Before it's here, it's on the Bloomberg Terminal.
LEARN MORE