Harvey's Impact on Oil Markets Shown Through Charts
By
Gasoline futures rise to two-year high as refineries shut

WTI's discount to global benchmark widens as crude trapped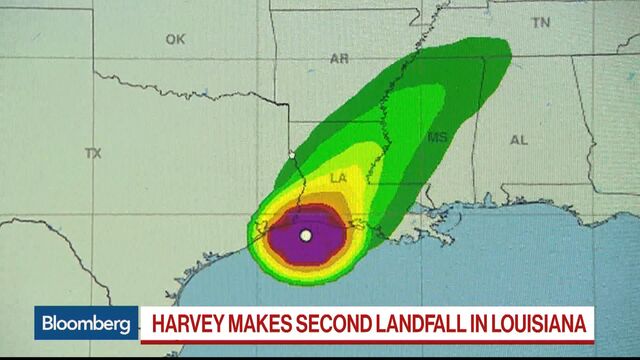 Here are four charts that show how Tropical Storm Harvey is affecting the oil market.
Refining Slowdown
While Corpus Christi, Texas, refineries prepare to restart as the storm shifts, several plants in the Port Arthur and Beaumont areas are under threat, pushing gasoline futures to the highest in two years.

Motiva Enterprises LLC's Port Arthur refinery, the largest in the U.S. with the ability to process about 605,000 barrels a day, began a controlled shutdown Wednesday and Exxon Mobil Corp.'s Beaumont refinery is also said to shut due to flooding issues. Total SA's refinery in the area is said to have had a power loss, while Valero Energy Corp.'s Port Arthur plant is offline due to the flooding, according to a person familiar with operations.
Harvey's Descendants Will Trouble Global Energy Markets: Gadfly
"This second wave of Harvey is probably doing more damage than most people thought it would," Bob Yawger, director of the futures division at Mizuho Securities USA Inc. in New York, said by telephone. "It's shutting some pretty significant pieces of the refinery puzzle."
Lull in Demand
As refineries shut or slow operations, there is less demand for crude, weighing on the price of WTI oil futures. WTI for October delivery declined 40 cents to $46.04 a barrel at 8:46 a.m. on the New York Mercantile Exchange. With all the disruptions, traders may not get accurate tallies of U.S. petroleum supplies in the weekly reports from the Energy Information Administration.

"The inventory data over the next three weeks is going to be very skewed and less reliable," Mark Watkins, a Park City, Utah-based regional investment manager at U.S. Bank Wealth Management, which oversees $142 billion in assets, said by telephone. Next week's report will likely show a "rise in crude inventories because the refineries just can't move that along to an end product."
Nationwide crude stockpiles have slid for eight straight weeks.
U.S. Oil Stuck
The spread between the global crude benchmark Brent and its U.S. counterpart WTI widened Tuesday to levels last seen two years ago as shutdowns of Gulf Coast refineries and some pipelines in the region led to a buildup in oil supplies.

"The storm is creating an oversupply of crude oil on a temporary basis that won't be able to be relieved for a little bit until we can export and until these refineries start back up," Rob Thummel, managing director and portfolio manager at Tortoise Capital Advisors LLC, which manages $16 billion in energy-related assets, said by phone.
Watch Out Cushing
The contango, where near-term contracts are cheaper than long-dated ones, is widening. The gap between the WTI for December 2017 and December 2018 has increased to the largest since mid-July.

"The bottom line is the hurricane puts more oil into storage and specifically into Cushing," said Clayton Rogers, an energy derivative broker at SCS Commodities Corp. in New Jersey, referring to Cushing, Oklahoma, the delivery point for WTI and the biggest U.S. oil-storage hub.
Before it's here, it's on the Bloomberg Terminal.
LEARN MORE