Scotiabank Still Sees Latin America Growth Even as Profit Stalls
By
Earnings from region are little changed over the past year

CFO sees growth of 9% to 11% annually in four LatAm countries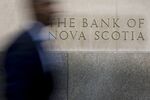 Bank of Nova Scotia's three-year Latin America drive has slowed, though the lender says it still sees potential for growth.
Chief Executive Officer Brian Porter shifted priorities after taking over at Canada's third-largest lender by assets in November 2013, focusing on four Latin American nations for growth -- Mexico, Chile, Colombia and Peru. Profit from that region rose 1.9 percent in the fiscal third quarter from a year earlier, the bank said Tuesday, and quarterly profit has been little changed over the past 12 months.

Chief Financial Officer Sean McGuckin said he doesn't see any long-term structural issues affecting Scotiabank's outlook for the so-called Pacific Alliance countries. Latin American earnings, which were C$374 million ($300 million) in the quarter ended July 31, were dragged down by flooding-related issues in Peru and higher credit-card losses in Colombia, he said.
"There are certain countries that had a little bit more to earn through this year, but we fully see strong long-term potential," McGuckin told reporters on a conference call, adding he still expects earnings in the four-country region to increase 9 percent to 11 percent annually. "We are definitely seeing good growth in front of us."
Scotiabank's rationale for concentrating on the Latin American nations has been recited by Porter numerous times in the past three years. His refrain: they represent the sixth-largest regional economy in the world, offering favorable economic growth and a young, under-banked and rapidly growing middle class. Scotiabank has operations in more than 50 countries, making it Canada's most international lender.
Scotiabank shares fell 0.9 percent to C$76.52 at 1:10 p.m. in Toronto, paring this year's gain to 2.4 percent.
Loan Balances
When Porter first conveyed his plans to shift the lender's overseas focus from Asia to the Pacific Alliance nations in the second quarter of 2014, Latin America earned about C$274 million in profit, according to financial statements. Average loan balances in the region have risen more than 45 percent since 2014, as deposits and revenue also increased.
Total loans in Latin America have climbed 7.7 percent this year to date, with higher average balances in mortgages, loans and credit cards offsetting a slowing pace in business and government loans. Net interest margin for the region -- the difference between what a lender pays for deposits and charges for loans -- was 4.82 percent, twice that of Canadian banking.
The firm's executives told investors in January 2016 that the bank aimed to increase earnings by as much as 11 percent in those four key Latin American countries within three to five years by adding more customers, embracing technology and cutting costs.
Latin America helped propel Scotiabank's international division to record earnings of C$672 million for the quarter, according to a statement Tuesday, extending its streak of record profit at the second-largest division. Latin America represents 56 percent of the Toronto-based lender's total international profit. Canadian banking, Scotiabank's largest division, also posted record profit of C$1.05 billion in the quarter.
Scotiabank's total net income rose 7.4 percent to C$2.1 billion, or C$1.66 a share, from C$1.96 billion, or C$1.54, a year earlier. The company said profit excluding some items was C$1.68 a share, beating the C$1.64 average estimate of 15 analysts surveyed by Bloomberg. The lender raised its quarterly dividend 4 percent to 79 cents a share.
National Bank of Canada is scheduled to report results on Wednesday, followed by Toronto-Dominion Bank on Thursday.
Before it's here, it's on the Bloomberg Terminal.
LEARN MORE