One World Trade Center Reveals Yet Another Problem for Steel
By
Concrete demand surges as architects favor it for cost, safety

Steel lobby seeking to stem tide by promoting use in buildings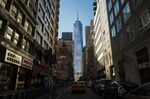 New York's One World Trade Center is emblematic of a struggle by steelmakers to boost demand from construction, an industry that buys almost half the output of the alloy.
While the Twin Towers it replaced were erected around scores of steel columns, the Western Hemisphere's tallest building is held up by a concrete core to help prevent the kind of devastating collapse that followed the terror attacks of Sept. 11, 2001.
Planners of skyscrapers and bridges have turned toward concrete over structural steel as it can withstand high temperatures, is cheaper and lasts longer. Since 2000, steelmakers outside China expanded output of structural beams and columns at only about half the pace of rods, or rebar, used to reinforce concrete, the World Steel Association says.
"Concrete is good because it's cheap, very enduring, it grows old well and, if it's of good quality, is absolutely fire safe," said Sergey Kuznetsov, chief architect for Moscow, Europe's second most-populous city. "Steel is good as it makes the building lighter in terms of pressure on the foundation, and a steel frame is also easy to install. But steel has its drawbacks and the main one, perhaps, is its low fire resistance."

Construction's move toward concrete is a problem for steelmakers already suffering from a global supply glut and demand growth expected to reach about 1 percent this year and next. By comparison, demand for ready-mix concrete is seen rising 9 percent a year, market researcher Technavio says. The industry is now trying to win back planners and architects.
"There is a strong correlation between promotion spending and the market share of structural steel in buildings," said Terrence Busuttil, who pushes for the metal's use in construction at the World Steel Association. After cuts in advertising by steelmakers since 2008, the lobby needs to "disseminate as much information as possible about the benefits of steel," he said.
The group estimates promotion spending by the concrete industry in Germany, Europe's biggest economy, is as much as 20 times that by steel producers.
The association's first construction conference this year brought together representatives from steelmakers such as ArcelorMittal, world No. 1, and Salzgitter AG, with designers including Arup Group and Benthem Crouwel.
The group also aims to help develop design codes making it easier for engineers to choose steel, as well as promoting the skills needed to draw up and build such projects, particularly in emerging economies.
Steelmakers are developing products including ready-made and bespoke parts for projects. They are also working with producers of materials and systems able to insulate the metal from heat to maintain its integrity in the case of a blaze, and creating alloys that reduce corrosion.
"Steel has been changing over the years," Andrey Laptev, chief strategist at producer Severstal PJSC and head of a committee at the industry lobby, said in an interview. "It's an innovative product with the potential for greater technological breakthroughs."
One example is a technique that mixes high-strength steel filaments with concrete to increase resistance to pressure around 10-fold compared with regular concrete. Modern steels are able to match concrete's resistance to heat and corrosion, according to Busuttil at the industry lobby.
Without action by the industry, the slower growth of structural steel compared with rebar used in reinforced concrete is likely to persist.
"Even 16 years after the collapse of the Twin Towers in New York, such events stick in the memory," former Russian Deputy Minister for Construction Yuri Reilyan said in an interview. "Not only for ordinary people, but for people who order new buildings."
— With assistance by Evgenia Pismennaya
Before it's here, it's on the Bloomberg Terminal.
LEARN MORE