Theresa May Has Her Eye on a Glittering Trade Prize
By
U.K. premier embarks on three-day visit to Japan to meet Abe

Meetings include business, defense officials, Emperor Akihito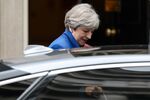 Prime Minister Theresa May is heading to Japan to burnish relations with a trade partner critical to Britain's post-Brexit future even as a bellicose North Korea threatens to overshadow the three-day trip.
With a third round of Brexit negotiations under way in Brussels, May's visit to the world's third-biggest economy a month after her top diplomat was there is a reminder of just how important it is for her government to appease key commercial allies fretting over what will become of their long-term investments if Britain crashes out of the European Union.
With Softbank Group's purchase of ARM Holdings Plc and factory expansions by Nissan Motor Co. and Toyota Motor Corp., Japan is eager for reassurances -- not just the platitudes it got from Foreign Secretary Boris Johnson last month. May is taking with her a delegation of business executives.
Overshadowing the entire Wednesday-through-Friday visit will also be the question of how to contain North Korea's growing menace, after a series of missile tests this year, culminating in Tuesday's firing of a ballistic missile over Japan that landed in the Pacific Ocean about 1,200 kilometers (750 miles) east of the northern island of Hokkaido.
Nuclear threats aside, the problem for the premier is that Japan's priority is to nail down a trade agreement with the EU just as the U.K. negotiates its departure from the world's biggest trading bloc. Before last year's vote for Brexit, May's predecessor, David Cameron, had hailed such a deal, saying it would add an annual 5 billion pounds ($6.5 billion) to the U.K. economy. 
Boris Buffoonery
When Johnson visited Japan in July he goofed around for the television cameras -- gaping mouth open next to a humanoid robot -- and emerged from meetings with Japanese counterparts declaring that they wanted to turn the EU deal into "a fantastic, all-singing, all-dancing, U.K.-Japan" agreement.
From May, Japanese officials will be looking for something far more concrete. According to the Daily Telegraph, they will demand she convey the end to a "sense of crisis." There are more than 1,000 Japanese companies working in the U.K. that employ 140,000 people.
The premier will meet her Japanese counterpart, Shinzo Abe, as well as Emperor Akihito and military and business officials. While the visit will be her first to Japan as premier, she hosted Abe at her countryside retreat, Chequers, in April and also held meetings with him at the Group of 20 summit in Hamburg last month and at the United Nations last year.
At a brief meeting in September at the G-20 summit in Hangzhou, China, Abe told her he attaches "extreme importance" to U.K. relations and reminded her of the extent of Japan's investment there, which is partly dependent on Britain's access to the single market.
Nissan Reassurance
That came days after Japan published a 15-page paper setting out the threats to Japanese companies in Britain if exit terms are too tough. The document, directed at both Britain and the EU, warned that firms are considering moving their European headquarters out of the U.K. and said a long period of uncertainty would be damaging.
May's message that she's seeking a transitional period to smooth Britain's departure from the EU is likely to be "reassuring" to Japanese companies, Shinichi Iida, minister for public diplomacy at the Japanese Embassy in London, said on Tuesday in a BBC Radio interview.
"What Japanese businesses are expecting in my view is the clarity and the predictability of the process to come," the diplomat said. "The recent remit within the U.K. government for the provisional period will be a very important factor because it will give the time and adaptability for the Japanese companies to adjust to a new environment after Brexit."
May's government has already sought to calm nerves at Japanese companies about Brexit, with Business Secretary Greg Clark providing letters of reassurance to Nissan and Toyota that preceded decisions by the two automakers to expand production in the U.K.
Abe, EU President Donald Tusk and European Commission chief Jean-Claude Juncker endorsed a preliminary EU-Japan trade deal last month after reaching agreement on sticking points including tariffs for cars and cheese, with final details to be ironed out later in the year. The goal is for the agreement to take effect provisionally in early 2019.
Britain's scheduled departure from the bloc is in March of that year.
Before it's here, it's on the Bloomberg Terminal.
LEARN MORE