Kenyan Court Reorders Elections Body to Open Servers for Audit
By
Main opposition says electoral agency denies access to servers

IEBC says servers are in Europe, hence logistics challenges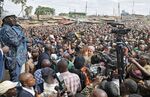 Kenya's Supreme Court issued fresh orders for the electoral authority to allow scrutiny of its computer servers after the body failed to comply with a past ruling, jeopardizing the opposition's chances of proving allegations that this month's presidential vote was rigged.
The Independent Electoral & Boundaries Commission must "comply within the time frame specified by the court," Chief Justice David Maraga told the agency's lawyers. One of the advocates defending President Uhuru Kenyatta's electoral victory, Paul Muite, told the court that compliance was hampered by logistics and a time-zone difference because the servers are hosted in Europe.
"Communicate with your clients to comply with the court order," Maraga said. "Wherever they are, even if you have to wake them up, get the order complied with."
The Supreme Court expects a report after the National Super Alliance's scrutiny of the servers by 5 p.m. on Tuesday.
Opposition officials waited at the commission's offices until at least 3:30 a.m. on Tuesday morning to retrieve the information, coalition spokesman Dennis Onyango said by text message. The authority provided "less than 1 percent" of the access the court had allowed in a Monday ruling, he said.
The alliance alleges that members of Kenya's ruling Jubilee Party hacked the IEBC's system to ensure Kenyatta won a second term in elections on Aug. 8. The coalition wants to compare whether ballot tallies issued at polling stations with those disseminated by the electoral authority.
Alliance leader Raila Odinga has failed on three previous attempts to win the presidency in Kenya, the world's largest shipper of black tea and a regional hub for companies including Google Inc. and Coca-Cola Co. A dispute over the outcome of a 2007 election triggered two months of violence that left more than 1,100 people dead.
The court's seven-judge panel will make a ruling by Sept. 1 on the opposition's petition to annul the election result. Should Kenyatta's victory be overturned, the East African nation would have to hold new elections within 60 days.
Before it's here, it's on the Bloomberg Terminal.
LEARN MORE