Houston's Economy Was Powering Up Nicely Before Harvey's Fury
By
City's business-cycle index recently showed oil slump was over

Job market faces disruption as rescues give way to rebuilding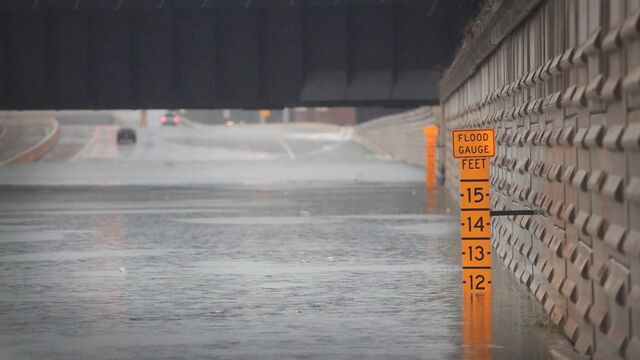 Houston's economy has had some spring in its step thanks to a recovery in oil production after a more-than-yearlong slump. Now, the nation's fourth-largest city faces a new and more daunting challenge: rebounding from an epic storm named Harvey.
Downpours measured in feet have crippled the city and rescue efforts are still ongoing in many neighborhoods. The economic toll of Harvey, which made landfall south of Houston as a category 4 hurricane, won't be known for a while and the Federal Emergency Management Agency says more than 450,000 residents will require assistance.
Up until now, the outlook for the Houston metropolitan area's economy, where United Continental Holdings Inc., Exxon Mobil Corp. and Wal-Mart Stores Inc. are among the biggest employers, has been steady. The Federal Reserve Bank of Dallas -- whose district spans Texas and parts of neighboring states -- said in its latest summary that "June data were generally positive for Houston, pointing toward a healthy economy." A report Monday from the Fed bank on the Texas manufacturing outlook showed solid growth during the Aug. 15-23 survey period.

The Houston Business-Cycle Index has expanded an annualized 3.2 percent so far this year compared with a more than 1.8 percent annualized decline through most of last year, according to the Dallas Fed. "Movements in the index suggest that the Houston economy is expanding again after nearly two years of modest contraction," the bank said in an Aug. 1 report.
It's been steady-as-she-goes in Houston's labor market as well. While there will undoubtedly be some displacements after Harvey, clean-up and rebuilding efforts will provide many with more opportunities. Employment in Houston is up 1.8 percent from a year ago compared with 1.5 percent for the U.S.

The largest gains in the second quarter, according to the Dallas Fed, were in business services, manufacturing and education and health services. Construction employment has fallen due to a slowdown in commercial building, particularly office-space projects.

The area's housing market has also been holding up. While sales of previously owned homes cooled in May and June, they're near the high end of a range that has persisted since the start of 2013. Prices, too, are elevated.

Before it's here, it's on the Bloomberg Terminal.
LEARN MORE