Photographer: Ty Wright/Bloomberg
Ghana Banks on IMF Backing as Country Seeks Ambitious Growth
By
IMF board to review fiscal, monetary reforms on Wednesday

Economic growth rate is increasing while inflation slows
Ghana's President Nana Akufo-Addo is banking on good news from the International Monetary Fund after his predecessor nearly derailed an economic recovery plan through overspending.
As the nation awaits the outcome of a review from the Washington-based lender, which may come as soon as Wednesday, on reforms since Ghana entered a $918 million credit program with the lender in 2015, gross domestic product is growing at the fastest pace in more than two years, the central bank is cutting borrowing costs as inflation slows and bond yields are falling.
Ghana's economy had a soft landing under Akufo-Addo's New Patriotic Party, with Finance Minister Ken Ofori-Atta announcing tax cuts in March and pledging to reduce the budget deficit by more than half over the next three years. While fiscal shortfall for 2016 was almost double the initial target under the auspices of former President John Mahama, his administration did much of the groundwork to steady inflation and boost growth.
"The old administration started implementing some good policies especially with the IMF program, the currency became stable, inflation and interest rates started trending downwards," Edem Harrison, a research analyst with Frontline Capital Advisors, said by phone from the capital, Accra. "They have continued this trend into the new administration."

Still, after eight months some realities are now starting to show as Ofori-Atta said the government will have to cut spending due to weak revenue collection.
Ghana's budget deficit for 2016 was 9.3 percent of GDP compared with an initial target of 5.3 percent under the IMF program. The government announced in January it discovered about 7 billion cedis ($1.6 billion) in unplanned spending by the previous administration, startling markets and weakening the currency. The shortfall is forecast to narrow to 6.3 percent this year.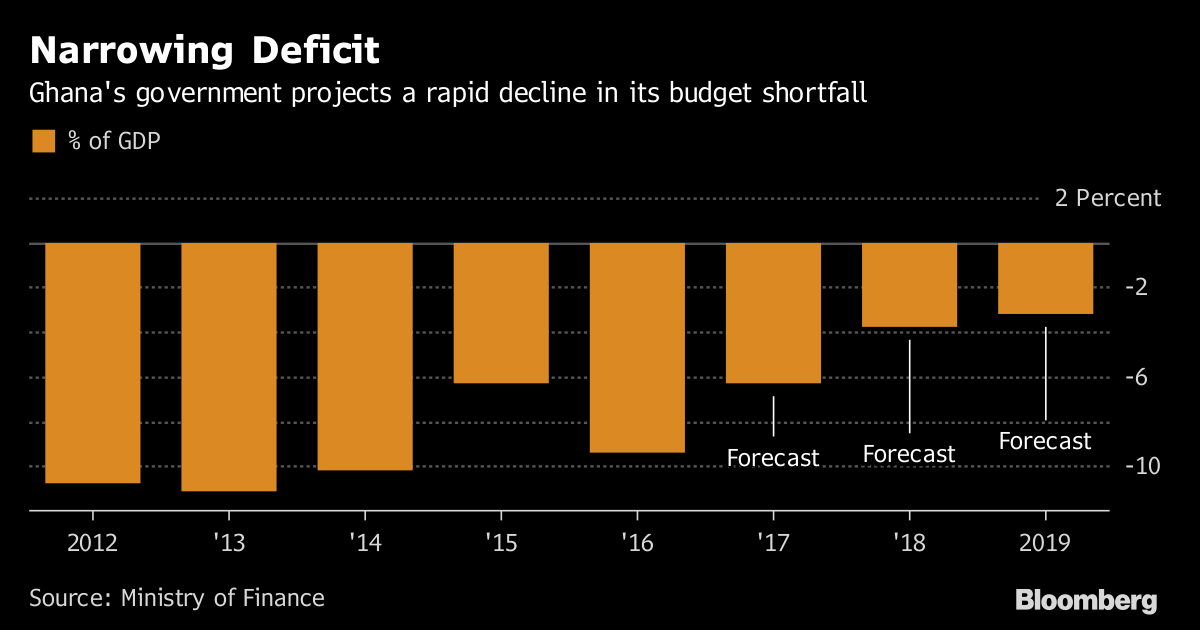 "The new administration's weakness is that their programs and promises to Ghanaians are a bit overambitious," Harrison said. "They abolished some taxes, but we haven't seen any innovative ways to reintroduce tax nets and bring in more revenue."
Record Crop
The Finance Ministry said last month GDP growth may accelerate to 9.1 percent next year, from a projected 6.3 percent in 2017.
Many of the government's revenue and growth estimates in the March budget are based on projections of increased oil production and lower-than-expected crude prices could erode some of these gains. The world's second-biggest cocoa producer may also not enjoy the full benefit of its largest crop in six years as a global oversupply has caused London prices to drop by more than a third in the past year.
The cedi strengthened 0.2 percent to 4.4375 per dollar by 7:49 a.m. in Accra on Tuesday.
The IMF will consider an extension of its program with Ghana when its board reviews the country's progress on reforms at a meeting on Wednesday, the lender said by email. The nation is set to complete the program in December 2018, eight months later than planned, and has no intention to extend it further, according to Ofori-Atta.
"The hole in the budget and the missed program targets for end-2016 only emphasize the need for the IMF program extension to sustain investor confidence," Courage Martey, an Accra-based economist at Databank Group, said by phone.
— With assistance by Ana Monteiro
Before it's here, it's on the Bloomberg Terminal.
LEARN MORE