Five Things You Need to Know to Start Your Day
Get caught up on what's moving markets in Asia.
By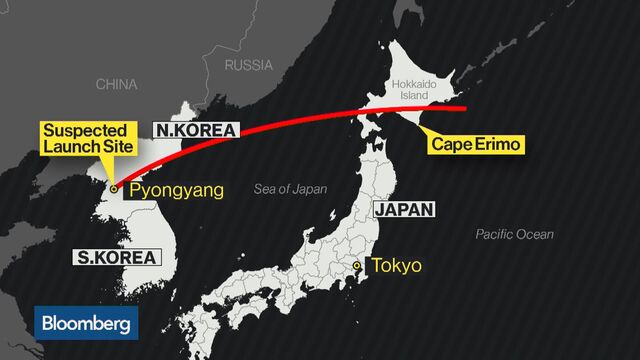 Want to receive this post in your inbox every morning? Sign up here.
Gaps get filled after missile launch rattles markets, Trump strikes measured tone towards North Korea, and Wheeler's swan song. Here are some of the things people in markets are talking about.
Rapid Recovery
A missile went up then came crashing down; by and large, risk assets did the opposite on Tuesday. The S&P 500 Index closed in positive territory after opening well in the red; the U.S. dollar ended up outperforming the likes of the Swiss franc and Japanese yen – the latter a somewhat curious safe haven in light of its proximity to North Korea. Tech heavyweights paced gains on benchmark U.S. equity gauges, with Apple closing at a record high and all FANG constituents rising. The euro breached $1.20 against the greenback for the first time in more than two years; gold hit its highest level since November. Meanwhile, the bitcoin rally just can't be stopped, and other infamous financial market bubbles pale in comparison to the digital currency's advance.
'All Options'
U.S. President Donald Trump vowed that "all options" are on the table to respond to North Korea after Kim Jong Un's regime fired a missile over Japan. The move may bolster Japan Prime Minister Shinzo Abe's quest for stronger national defense. Trump and Abe plan to call for an international embargo on oil exports to North Korea, according to Nikkei. This latest provocation from Kim Jong Un rattled global markets – but not too badly, or for that long. Investors are desensitized to the turmoil in the region; South Korea's Kospi Index pared the majority of its losses by the close on Tuesday. President Moon Jae-in, whose military conducted bombing drills in the wake of its northern neighbor's latest show of aggression, is also pushing for the biggest boost to government spending in a decade in a bid to reduce inequality.
Coming Up...
It's a relatively light day on the economic calendar in the Asia Pacific region Wednesday. Retail sales for Japan are forecast to rise 0.3 percent month-on-month in July on the heels of household spending figures released on Tuesday that fell well short of expectations. Reserve Bank of New Zealand Governor Graeme Wheeler is poised to deliver a speech Wednesday that many expect to be his swan song before departing the central bank in less than a month. July building permits for New Zealand and Australia are also slated to be released.
U.S. Reversals in Focus
10-year U.S. Treasury yields hit their lowest level since November 10 amid a flight to safety – but reversed course to fall less than 2 basis points by the close of trading stateside. A dearth of inflation or pro-growth fiscal policies has caused investors to sour on the prospect of aggressive tightening from the Federal Reserve. Odds of an interest rate increase in December are less than one in three; a little more than half a hike is priced in for calendar year 2018. In addition, the Bloomberg U.S. Dollar Index rebounded from its lowest level since January 2015 to finish the day up 0.2 percent. A Goldman Sachs fund manger said going long the dollar is "very, very attractive right now."
Futures Up
S&P/ASX 200 and Nikkei 225 futures are trading to the upside ahead of the open. The Japanese yen ended up underperforming all its G10 peers on Tuesday, which may buoy domestic equities. The MSCI Asia Pacific Index snapped a three-session winning streak its previous session but finished well off the lows as investors digested the latest salvo from North Korea.
What we've been reading
This is what caught our eye over the last 24 hours.
Before it's here, it's on the Bloomberg Terminal.
LEARN MORE