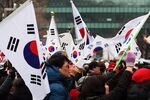 The undoing of Samsung's Jay Y. Lee, the man at the top of South Korea's most powerful business empire, is a win for corporate reformers who have long tried to stop the country's family-run conglomerates from operating outside the law without consequences.
But missing from the conversation about Lee, sentenced Friday to five years in prison for bribing South Korea's former president, is how the genesis of his downfall can be traced back to a New York hedge fund once deemed "the world's most feared investor." Lee has appealed the verdict.

Back in 2015, Paul Singer's Elliott Management Corp. campaigned to block a merger of two Samsung business units sought by Lee as a means to consolidate his power. A year later, Elliott agitated for Samsung Electronics Co. to pursue a holding company, a Nasdaq listing and the appointment of more independent directors.
When Elliott failed to stop the merger, or persuade the electronics arm to restructure its business, investors questioned whether activist investing could ever work in a country whose maze of cross-shareholdings and vast family empires blockade corporate change.
We now know that Samsung's merger only came about because Lee bribed then-president Park Geun-hye to get the National Pension Service, Samsung's largest shareholder, on board.
Samsung Electronics' consolation prize -- hiking its dividend and cancelling $35 billion worth of treasury shares -- helped send the smartphone maker's stock up 40 percent since Elliott disclosed a stake last October. 1
In other words, it was a long and circuitous route, but Elliott's actions did bring about corporate reform in the end.
There's always a chance that Lee gets a presidential pardon like most of Korea's other disgraced chaebol heads. Or that he becomes the sacrificial lamb as others go back to business as usual.
But Park has been impeached. Lee is in jail. And a new liberal president with public support for corporate reform is emboldened by the court's decision to put Lee behind bars. This is the moment for activist investors to strike. 
Regardless of what they say in public, Korea's family dynasties are certainly on notice. 
The prospect of harsher punishment for misdeeds could make chaebol heads more receptive, at least temporarily, to concerns of minority shareholders -- especially those of outspoken investors capable of stirring public dissent in what is now a highly charged environment.
And activists have a clear roadmap: Push for the reduction of treasury shares and cross-shareholdings while advocating for more efficient capital allocation, increased dividends, outside board members and corporate governance reform.
Some obvious targets include conglomerates such as the Lotte Group, whose shareholders approved a reorganization Tuesday that will at least pave the way for Chairman Shin Dong-bin to streamline the retail-to-chemical giant's ownership. And there's the Hyundai Group, whose intricate web of cross-shareholdings allows the founding family to maintain control of key units despite having only small direct stakes.

The opportunity has long existed to shake up these conglomerates and close the so-called Korea discount, which describes the lower valuations that the nation's firms trade at versus their global peers.
But with the shine coming off South Korea's corporate crown jewels, shrewd activist investors might want to get a move on.
Before it's here, it's on the Bloomberg Terminal.
LEARN MORE