Billionaire Shigeta's Hikari Tsushin Gets Market Love Again
By
Company's shares rise 24% this year to the highest since 2000

Bond market demand was strong for its longest-maturity debt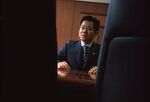 Yasumitsu Shigeta, the founder and chairman of Hikari Tsushin Inc., was once among the world's richest persons, before earnings disasters caused the company's shares to sink 99 percent in 2000. Almost two decades later, some investors are having a second look at the Japanese company, and recent market moves suggest they like what they see.
Shares of the office-equipment seller have jumped 25 percent this year to the highest since 2000, outperforming the Topix stock index's 6 percent gain. Three of four analysts surveyed by Bloomberg have a buy recommendation on its equity. In the bond market, Hikari Tsushin sold its longest-ever notes this month, and the issuance amount was increased due to strong investor demand.
Shigeta's company has come a long way. A darling of the stock market in the 1990s, Hikari Tsushin was considered one of Japan's promising new firms along with SoftBank, until it faced a crisis in 2000: its stock sank as its mobile phone sales business unexpectedly lost money. Now the market is bullish once again toward the seller of everything from copiers to office water servers to mobiles, as equity investors cheer its rising profits and regular shareholder payouts, while bond buyers appreciate the extra yields on its notes.
Hikari Tsushin is "a very exciting stock from our perspective," said Richard Kaye, a portfolio adviser at a Japan unit of Comgest Global Investors S.A.S., which has about $100 million invested in the company's stock. The shares are cheap, the company's business model is attractive and it's growing steadily, according to Kaye.

Hikari Tsushin's net income climbed to 39 billion yen ($358 million) in the 12 months ended March 31, from 7.8 billion yen five years earlier. Kaye expects the firm's annual net profit to break above 50 billion yen in the coming five years. The earnings recovery follows years of restructuring that involved the company closing mobile-phone retail outlets, while it expanded sales to corporate clients including office automation and also started selling insurance.
It's a "quite good company," according to Akihisa Motonishi, a chief analyst at Japan Credit Rating Agency Ltd. He said the company has shifted its sales strategy in the past five years or so from getting a single payment on each product sold, to receiving small monthly commissions as long as the user keeps using the product, stabilizing its earnings.
Bubble Collapse
The outlook wasn't always so bright. As the dot-com bubble collapsed and a boom in mobile-phone sales stalled, the company posted a net loss of 56.4 billion yen in the year through August 2001, and lost money the next two fiscal years.
Hikari Tsushin's credit rating was cut to junk in 2000 by Japan's Rating & Investment Information Inc., which also cited the firm's reliance on internet shares and related companies for its financing.
The company began aggressive restructuring that started to pay off in a few years. It returned to a net profit in the year ended March 2004 and its income grew from there.
Shigeta, whose net worth was $39.45 billion in February 2000, now has $4.3 billion, according to the Bloomberg Billionaires Index.

For some investors, Hikari Tsushin's past turmoil is an obstacle. Tokyo-based Asahi Life Asset Management is one of those -- it doesn't own any of its bonds.
"We deal with funds that are very public," said Yoshihiro Nakatani, senior fund manager at the firm, which oversees 993.1 billion yen. "We must be a little careful about investing in issuers with seemingly high reputation risks."
Overly aggressive sales practices at the group could also pose risks for investors, according to Yuta Ishinoda, a senior analyst at Rating & Investment.
In 2015, Japan's Ministry of Internal Affairs and Communications twice warned Hi-Bit Inc., a Tokyo-based fiber-optic internet services provider unit of Hikari Tsushin, about its sales methods. There were "inappropriate" solicitations including customers not being made aware that their service contracts were being changed, it said at the time. The ministry declined to comment on whether the firm has improved its operations since then.
Hikari Tsushin "needs to take care of this sort of thing, since if there are any big problems in this area, it could lose customers, and there's also the risk it will be ordered to suspend operations," Ishinoda said.
A Hikari Tsushin spokesman declined to comment on moves in the markets and risks mentioned by analysts. The firm is improving its operations at Hi-Bit in line with authorities' intentions, said a spokeswoman, who asked not to be identified due to company policy.
Bond Demand
The bond market appears to be brushing off the risks. Investors rushed to buy Hikari Tsushin's 10-year bonds, whose 1.78 percent coupon was the highest offered for a regular yen straight note since April 2016. There were twice as much in orders for the debt than the amount offered, even after the company raised the issuance amount to 40 billion yen from its initially planned 10 billion yen, according to people familiar with the transactions.
Japan's R&I rates Hikari Tsushin BBB+, the third-lowest investment grade, and JCR rates it A-, one level higher.
A business model like Hikari Tsushin's that relies on sales agents may make sense for a maturing economy like Japan, according to Mariko Watanabe, an analyst at UBS Group AG in Tokyo.
"We're in an age when everyone has a mobile phone," she said. "If you want your customer to buy one more mobile, you need those agents' marketing and sales know-how."
— With assistance by Yoojung Lee
Before it's here, it's on the Bloomberg Terminal.
LEARN MORE