Behind Merkel's Platitude-Filled Press Conference Lie Clues About Her Strategy
By and
Chancellor's end-of-summer press conference, in her own words

Merkel also addresses Poland, refugees, euro rate and steel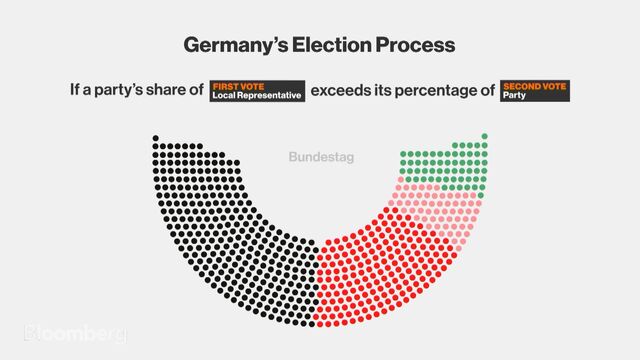 Chancellor Angela Merkel ranged across the euro exchange rate, the rule of law in Poland and new measures to tackle the refugee influx into Europe during her 97-minute annual summer press conference in Berlin. With less than a month left before the Sept. 24 election, it was her comments on the issues driving her election campaign that resonated most. 
Is Germany's election 'boring'?
Merkel bristled at the suggestion that her dominant lead in the polls over Social Democrat Martin Schulz renders the election campaign in Europe's largest economy "boring."
"If campaigning means to some that it's only good when two sides are screaming at each other, then that's not what I have in mind when it comes to campaigning," Merkel told a packed room of reporters in Berlin on Tuesday. "I'm pitching for votes, so my main task is to make clear what we want for the next four years."
The chancellor has been holding rallies across the country for more than two weeks now, touting her 12-year record of halving unemployment, citing progress in the refugee crisis and pledging expanded broadband access. Although she's drawn thousands to hear her stump speech, schools in Berlin are still on vacation and many if not most Germans have yet to tune in to the campaign.
"I give it my best," Merkel said of her campaign for a fourth term. "For me this isn't boring. It's exciting, interesting, meeting new people every day."
Merkel takes on the populists
Merkel launched an uncharacteristically blunt attack on the anti-immigration Alternative for Germany party, or AfD.
A leading candidate for the party, Alexander Gauland, drew fire this week after he insulted Merkel's integration minister, Aydan Ozoguz, over an op-ed she wrote questioning the nature of German culture. Ozoguz, 50, a Hamburg-born German citizen with Turkish roots, should be "dumped in Anatolia," Gauland told a rally. The 76-year-old, who quit Merkel's Christian Democratic Union for the AfD, later expressed regret for his choice of language.
"This statement about Minister Ozoguz is racist," Merkel said. "You just can't do that. And you have to say that this attempt to do it according to the same model every time -- first a provocation and then backing off a little bit -- speaks for itself and shows what kind of spirit is behind the authors of such smear tactics."
A number of Merkel's campaign appearances have been disrupted by protesters from the AfD, which has gained support by denouncing Merkel's open-border refugee policy, especially in the former communist east.
"You have to live with it," Merkel said of the protests. "It's democracy."
Mentioning Schulz
It has not gone unnoticed that Merkel tends to ignore her SPD challenger, rarely referring to him by name. That's even as Schulz spent last week escalating his political attacks against the chancellor, accusing her of avoiding tough debates. 
"I've already mentioned Martin Schulz at least once so that you wouldn't say that," Merkel responded, when asked about her reticence.
She won't be able to avoid him for long: the two candidates are due to hold a televised debate on Sunday, their only scheduled face-to-face encounter of the campaign.
Merkel media shy?
At least one reporter wanted to know why Merkel only appeared once a year for a major press conference on her own, accusing the chancellor of being more media shy than President Donald Trump or Russian President Vladimir Putin.
"How often would you like to see me?" Merkel asked, drawing laughter. She cited "other press opportunities," which include briefings following meetings with leaders and at summit meetings. "But I'll look into my heart if you think once in a year is too little."
Before it's here, it's on the Bloomberg Terminal.
LEARN MORE