Asia Traders Are Watching Trump's Twitter for 'Fire and Fury' II
Bloomberg News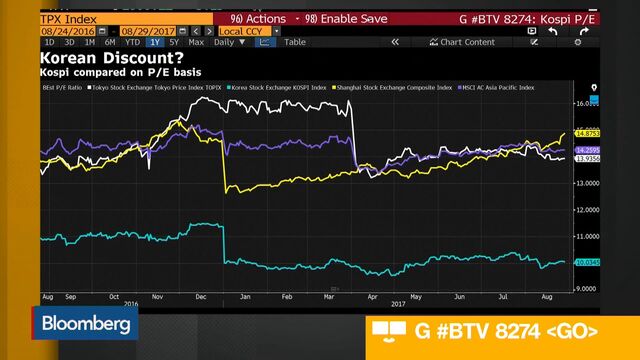 With North Korea's latest salvo sending a wave of risk aversion through Asian markets, all eyes are on one thing: Donald Trump's Twitter feed.
South Korea's Kospi index is down more than 1 percent Tuesday, but it's still shy of the 2.1 percent selloff of Aug. 11, in the week that the U.S. President threatened to rain "fire and fury and, frankly, power the likes of which the world has never seen before" down on Pyongyang.
The spike in Kospi volatility is also only the most since mid-August, and gains in the haven yen are akin to those of Aug. 9, when North Korea said it would fire missiles toward the U.S. territory of Guam.
While Jim Rogers, chairman of Rogers Holdings Inc., doesn't see the latest provocation as a significant development, he's awaiting a White House response. "I'm worried about Donald Trump, what he might do."
As of 12:17 p.m. Seoul time, @RealDonaldTrump was dormant. The U.S. president's last activity on Twitter was to retweet an Aug. 27 post from Texas Governor Greg Abbott thanking the state's National Guard. Trump hasn't personally tweeted since Sunday.
— With assistance by Emma O'Brien
Before it's here, it's on the Bloomberg Terminal.
LEARN MORE