Your Evening Briefing
Here are today's top stories.
By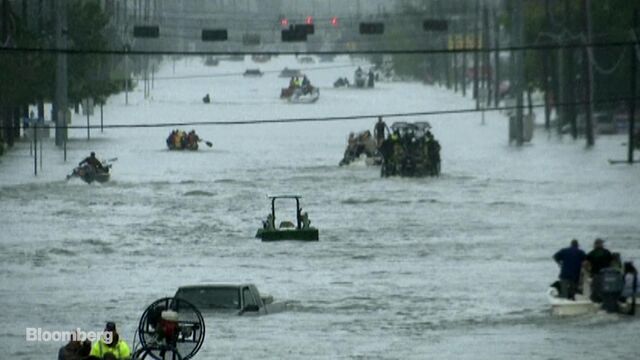 Want to receive this post in your inbox every afternoon? Sign up here.
The Weather Company's chief meteorologist called it "a tragedy of epic proportions." The National Weather Service said it was "unprecedented" and "beyond anything experienced." Tropical Storm Harvey has drifted back into the Gulf of Mexico, but more rain is expected — and Houston will suffer the storm's damage and devastation for many months and years to come. You can find more information about relief efforts here. —Megan Hess
Harvey cripples Texas. Floodwaters overwhelmed stretches of Houston as Tropical Storm Harvey inundated southeastern Texas, pounding America's fourth-largest city with unprecedented rainfall and crippling the core of the U.S. energy industry. The storm is turning into an economic catastrophe, with damages likely to stretch into tens of billions of dollars and many victims lacking adequate insurance. The flooding now threatens Louisiana.
Avocados just got cheaper. Amazon cut prices at Whole Foods by up to 43% on its first day as the grocery chain's owner. At one store in Manhattan, organic fuji apples were marked down to $1.99 a pound from $3.49 a pound, and organic avocados went to $1.99 each from $2.79. The reduced items had orange signs reading "Whole Foods + Amazon."
Uber's new CEO. The ride-hailing giant will appoint Expedia CEO Dara Khosrowshahi to succeed Travis Kalanick, two people familiar with the matter said. Khosrowshahi is a seasoned deal-maker and an outspoken critic of President Trump. He is also accustomed to sparring with one of his new company's biggest rivals, Alphabet. He may receive at least $200 million to exit Expedia.
Why people still support Trump. "Those who scorn Trump's supporters might argue that none of their opinions are in fact intelligible or legitimate. After all, don't their views on immigration boil down to racism and white supremacy?" writes Clive Crook for Bloomberg View. Yet "this automatic attribution of stupidity and bad faith is just another kind of bigotry," he writes.
The next Theranos? A Stanford University dropout wants to change blood testing with a machine that promises precise results from a fingerprick. (No, it's not Elizabeth Holmes.) Tanay Tandon and Deepika Bodapati have raised $3.7 million from investors to kickstart their company, Athelas, named for the healing plant in "The Lord of the Rings." Tandon said he's learned from the collapse of Theranos.
Trump plans to kick off a crucial sales pitch this week: getting Americans fired up about rewriting the U.S. tax code. But instead of providing details that could help build support for a bill, the president will largely rely on the same talking points he and his advisers have highlighted since January.
The U.S. Open will be very different this year. More than 700,000 people are expected to file into the USTA Billie Jean King National Tennis Center in the next two weeks. But this year, Serena Williams, who is expecting a child in the fall, will not be playing. Neither will either of last year's men's finalists, Novak Djokovic and Stan Wawrinka. Meanwhile, Roger Federer, who missed last year's Open because of a knee injury, is back — way back.
Before it's here, it's on the Bloomberg Terminal.
LEARN MORE