Sports
Who to Watch at the U.S. Open This Weekend
The storylines ahead of the tournament finals.
By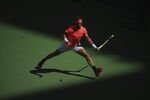 Every morning of the tournament, Bloomberg is providing a guide to the day's best matches: who to watch and how to watch them.
The Finals
All of the finalists for the men's and women's singles' championship at the U.S. Open share at least one thing in common: Each struggled with an injury last year and spent time away from the game. Of course, to reach the final of a Grand Slam, which requires winning six matches over the course of two weeks, each of them must be playing great tennis. Did the time spent rehabbing—working on fitness, practicing, refreshing themselves, rekindling passion for the sport—upgrade their games? And, if so, is the player sabbatical, whether he or she is injured or simply worn down by the grueling nature of today's game, going to become something we see more of? Will Novak Djokovic and Andy Murray come roaring back next season from their months off this year? Something to ponder as the 2017 winds down this fall. But first, the last of this year's Slam finals:
Madison Keys vs. Sloane Stephens
They have been friends for years, and they have been touted for years as the next-gen American women who would follow the Williams sisters to the top of the rankings. Keys, 22, plays a Williams-style game: a big serve and an even bigger forehand that can reach 95 mph. She aims to win points quickly, in three or four shots, hitting flat and aiming for the lines. When she is on, as she was against Coco Vandeweghe in their quarterfinal match Thursday night, she is next to unbeatable. But it is a high-risk style of play, and a good defender who can get enough balls back to her can produce a lot of unforced errors.
Stephens, 24, is just that kind of player. She can run balls down in the corners and force an opponent to hit one more shot, then another, and another. And unlike Germany's Angelique Kerber and other fine defenders in the women's game, Stephens can draw on power of her own when she wants to. I suspect the final will come down to whether anyone can defend against the assault that Keys has been bringing this tournament, if she brings it one more time. Saturday, Arthur Ashe, beginning at 4 p.m.
Kevin Anderson vs. Rafael Nadal
South Africa's Anderson is 6'8" and has one of the most concussive serves in the men's game. This is just the sort of player who can, at times, give Nadal problems. Rafa, for instance, lost the final in Acapulco earlier this year to 6'6" big-serving Sam Querrey. Obviously, a booming serve is tough to return, and wins a lot of free points, but here's a lesser-known fact: The topspin on Rafa's lefty forehand kicks up so high, it's nearly unhittable for a 6'1" righty's backhand, but it sits right in the strike zone of a taller player. That said, Nadal is playing superb tennis, even if he's reached the final without facing an opponent ranked in the Top 20. In particular, he is serving better than he has for years, mixing up his placement and striking it hard, reaching 120 mph at times, like he last did back in 2010. That, by the way, is the year he won his first U.S. Open championship. Sunday, Arthur Ashe, 4 p.m.
 
Men's Semifinals: An Unexpected Foursome

The men's semifinals are strange this year. Only one of the four players playing today entered the U.S. Open ranked in the top ten, and that was Rafael Nadal at No. 1. But you would have been hard pressed to find anyone a year ago who believed he'd get there, or, more accurately, get back there. And though he may be on top of the men's rankings, he has not won a hard-court tournament since 2014. And on the other side of the draw is a match guaranteed to produce the greatest men's longshot Open finalist since British lefty Greg Rusedski, 20 years ago. (He lost.)
Juan Martin del Potro (24) vs. Rafael Nadal (1) 
Ole! Ole! Ole! Ole! Del-Po Del-Po. That is the chant that his Argentine fans have been singing throughout this tournament, and with each of Del-Po's wins, the chorus has been joined by more and more gringos. Del Potro is easy to cheer for: He's got a big game, with a forehand that reaches 100 mph, and a bigger heart. He won the U.S. Open as a 20-year old in 2009, upsetting Roger Federer, and he beat the maestro again on Wednesday night. In between those wins he has spent years battling injuries, one to his left wrist, especially. Even now, he rarely employs it, foregoing a two-handed drive backhand for a one-handed righty slice.
Nadal rose once again to world No. 1 earlier this summer after nursing his own injuries and ceding the top spot to Novak Djokovic. He is likely to pound that Del-Po slice with his heavy topspin forehand, and also try to put him on the run—Del Potro's last two matches have been long ones, and earlier in the week he was fighting not only opponents but what appeared to be a bad cold. Be that as it may, Nadal has gotten to this semi without defeating a single seeded player, won his last hard-court title more than three years ago, and has lost to del Potro the last two times he's faced him. This will be a great contrast in playing styles, great warriors, great on-court personalities. It will feel like a final inside Arthur Ashe Stadium and beginning no earlier than 6 p.m.  
Kevin Anderson (32) vs. Pablo Carreno Busta (19) 
If there were ever a semi undercard, this is it. South Africa's Anderson entered the Open ranked No. 32, Carrreno Busta of Spain 19. Anderson, at 6'8", is one of the tallest players on the men's tour, and his serve is his weapon, though I've seen him rally his way and think his way to points, too. A few years ago, his game was rounding into shape with wins over top-5 players like Stanislas Wawrinka and a run that culminated in a quarterfinal spot in Flushing Meadows and a ranking of No. 10. Injuries then hobbled him until this summer, and he is playing the best tennis of his career. Carreno Busta, at 26, is peaking as well, reaching the highest ranking of his career. His game is a crafty, conservative one, built essentially on making as few unforced errors as possible and waiting for an opponent to make one. This match will get under way at Ashe at 4 p.m.
 
Women's Semifinals: The All-Americans

For the first time since Wimbledon in 1985, all four women in a Grand Slam final are Americans. And none is named Serena. The two matches to decide who moves on to Saturday's women's final will be played under the lights this evening in Arthur Ashe Stadium. But not under a roof: The forecast is for a clear, cool night. 
Meanwhile, it's "community day" this afternoon at the Open. There will be doubles semifinals, junior Open matches, and wheelchair tennis underway on all the courts, and you can watch them all for free. Is there a better way for a fan to say goodbye to summer?

Madison Keys (15) vs. CoCo Vandeweghe (20) 
Keys, 22, and Vandeweghe, 25, both entered the summer as struggling mid-career players sensing this was the moment to get their games to a next level. Keys was coming back from surgery done on her left wrist, not her main hitting hand but critical for her two-handed backhand. Vandeweghe hired a new coach, the Australian former great Pat Cash, whom she hoped, among other things, would sharpen her mental game. The results are in, and both are playing some of the best tennis of their lives. They faced each other twice last month, and Keys won both times, but not by much. These are women who hit everything flat and hard. Expect a slugfest. It'll be the second match tonight on Arthur Ashe.
Sloane Stephens vs. Venus Williams (9) 
You know things have changed in tennis when it seems unremarkable that two African-American women will be battling in the semifinals of a major. Like Vandeweghe, Stephens, 24, has wrestled with her mental game, and like Keys, she returned to the tour early this summer after surgery—in her case to repair a foot fracture. She, too, is playing terrific tennis. But she will be severely tested by Williams, who, at age 37, is vying to reach her third Grand Slam final this year. Williams will have the crowd of 22,000 behind her when play begins on Ashe at 7 p.m., and Stephens will need to start strong to keep them quiet.
Bob Bryan and Mike Bryan vs. Feliciano Lopez and Marc Lopez 
The Bryan brothers are not playing at the level they were a few years ago, when they were becoming the winningest men's doubles team in the history of the game. But at 39, the identical twins with their big Southern California smiles and leaping chest bumps are lots of fun. The Lopez duo, from Spain, are not related but paired off well enough last year to reach the doubles' Top Ten. Expect lots of quick points and ooh-and-ah put-away volleys. Catch it in the Grandstand, mid-afternoon.
 
Men's Quarterfinals: The Rematch

A forecast of rain today led the USTA to cancel all outer-court juniors' matches at the U.S. Open, and the women's doubles quarterfinals scheduled for the Grandstand this afternoon stand a good chance of being washed out, too. But if you woke up this morning with an urge to get to Flushing Meadows, don't let this stop you: There are dozens of tickets still available for Nadal's day session inside closed-roofed Arthur Ashe Stadium, and for a third of the pay-per-view price of Mayweather-McGregor. The evening session will cost much more, not only because night sessions this late in the tournament are more coveted, but because it features the match-up of the day:
Roger Federer (3) vs. Juan Martin del Potro (24) 
They last squared off at the Open in the 2009 final, the Mighty Fed against a young Argentine with a massive forehand and a bigger heart. It went five grueling sets, and when it was done, Del-po had pulled off one of the striking upsets of this era. It took him five long sets to beat Dominic Thiem on Monday: Has he recovered from that? Or the virus he was fighting? Federer has rounded into form after a patchy first week. This will be the late match tonight on Arthur Ashe.

Rafael Nadal (1) vs. Andrey Rublev 
The Russian Rublev is the last teenager left standing in a tournament that has thrilled fans with the play of youngsters. I watched Rublev from a courtside seat in Louis Armstrong last week both out-hit and out-think Grigor Dimitrov, the No. 7 seed who came into the Open as a dark horse to get to the finals. No teen has gone this far at an Open since Andy Roddick in 2001. To get further, he's going to have to get past Rafa, who has looked stronger with each match he's won, and who will benefit from a court that is playing slower than in year's past—the ball coming off his topspin forehand will be bouncing up shoulder high. This one is scheduled for 1:30 p.m. on Arthur Ashe. 
Hao-Ching Chan and Shuai Zhang vs. Yung-Jan Chan and Martina Hingis 
If the rain does subside, this is the doubles match to see. How often do you get to watch siblings on opposite sides of the net? The Chans, from Taipei, are the second-most successful sister act in tennis. (And, no, I don't have to name the first—but, wow, how about Venus last night?) They often play doubles together, and often win. Yung-Chan is the older of the two, and she has the better partner. Actually, Hingis, who will turn 37 at the end of the month, is still among the very best in the women's doubles game. Barring weather, the match is scheduled for late afternoon on the Grandstand.
 
Women's Quarterfinals: The Sentimental Favorites

For the players, winning a quarterfinals match and making it to the semifinals is a big psychological leap, and for that reason, among others, this round of the U.S. Open often makes for fiercely contested and memorable matches. I'll never forget Roger Federer down two sets to none against Gael Monfils in a nighttime match at Arthur Ashe three years ago. He muscled his way back, fended off two match points in the 4th set—one of them with a do-or-die swinging volley—and let out a primal roar when he sealed the five-setter just before midnight. 
Today's most compelling quarters are on the women's side, and one of them, this evening, has two backstories that make tennis the sport it is.
Venus Williams (9) vs. Petra Kvitova (13)  
Can a match have two sentimental favorites? Williams, at 37, is having her best season in years. She reached the finals of the Australian Open (where she lost to her sister Serena) and Wimbledon (where she lost to Garbine Muguruza). True, she has not faced a seeded player in any of her previous matches in Flushing Meadows. But she loves evening matches in New York, and knows that getting to the final here can put her in position, remarkably, to finish the year ranked No. 1. Kvitova, no less remarkably, has gotten this deep into the tournament despite the fact that she spent the first half of 2017 recovering from a knife attack that severely injured the fingers of her hitting hand. Sunday night she stunned Muguruza, who'd been playing the best tennis of her career. It's a fitting nighttime event featuring two of the most respected and well-liked women on the tour. It begins at 7 p.m. 
Sloane Stephens vs. Anastasija Sevastova (16) 
Stephens is back! A stress fracture in her right foot forced her to withdraw from last year's Open, and surgery to repair it kept her sidelined until this summer. But since the beginning of August, she has been playing some of the finest tennis of her career, reaching the semis in two tournaments and then getting on a roll at the Open, where her wins have included an upset of 11th-seed Dominicka Cibulkova. Sevastova of Latvia, the 16th-seed, retired from tennis four years ago, at the age of 23, as injuries mounted. But she returned to the game two years ago, and last year, made it to the quarters of a Grand Slam for the first time here at the Open. Sunday night, she knocked off Maria Sharapova. She's a big-match player.

Martina Hingis and Jamie Murray vs. Abigail Spears and Juan Sebastian Cabal  
There is still plenty of doubles play going on around the Open grounds. This has to be the most intriguing match, albeit not because it's expected to be close. What makes it interesting is that mixed doubles is always interesting—what other sport offers the chance to see men and women pros play together? But also, Hingis and Murray are as good at the doubles game as anybody playing today. If you are a recreational doubles player, go and watch how the two of them move forward, and along the net. A clinic. It will get under way on Louis Armstrong late in the afternoon.

The First Weekend Preview

The long Labor Day weekend is perhaps the best four days at the U.S. Open. The crowds are enormous—actually, they've been record-setting all week—even as the players get fewer and fewer. Barring rain delays, there will be 16 men and women left playing singles on Tuesday morning. (A week ago there were 256.) This four-day weekend is the big shakeout. Come the start of the work week, their play will be confined to Arthur Ashe Stadium.
Whether you get to Flushing Meadows, or are watching during a showery afternoon or a quiet evening before school starts and the boss is back, here is who to watch:
The Teenagers
This could be the Open remembered for breakthrough appearances by players not yet 20. If you have a chance to see Canada's 18-year-old Denis Shapopalov, seize it. He upset No. 8 Jo-Wilfried Tsonga—in straight sets—Wednesday night on the big stage of Ashe. The following afternoon, 19-year-old Andrey Rublev of Russia sent home Grigor Dimitrov, the men's 7-seed, with a stunning straight-set win at the temporary Louis Armstrong Stadium. The women's side also has two captivating teens who made it through the first two rounds: Naomi Osaka of Japan, who crushed defending Open champ Angelique Kerber on Tuesday, and Jelena Ostapenko, who wore down Simona Halep to win this year's French Open. You will hear more from these young players, who have youthful swagger and put on a good show. Watch them, have a blast, and earn bragging rights down the road: You saw them when.
The Intriguing Americans  
No, Serena is not here, and, yes, fans miss her at the Open. But headed into the weekend, there is no shortage of U.S. women's players, including a couple of unseeded longshots such as Jennifer Brady, Shelby Rogers and, yes, Sofia Kenin, who is 18 and ranked No. 139, but who tonight will be facing Maria Sharapova on Arthur Ashe. There are also players capable of making a deep run into next week: CoCo Vandeweghe, Sloane Stephens, and especially Madison Keys, who seems fully recovered from surgery on her wrist. And lest it be overlooked, there is another Williams, Venus, playing some of the best tennis of her life at age 37.

A couple of intriguing matchups loom, as well, if these players manage to win their third-round matches today and tomorrow. A matchup of Osaka against Ostapenko would be a clash of youthful groundstroke crushers. Juan Martín del Potro, No. 24, also has a chance to take on Dominic Thiem, which pits the former's punishing forehand against the latter's sweeping one-hand backhand. And keep an eye on Petra Kvitova, the Czech great who is battling back after a knife attack severely injured her hitting hand, who could face Garbine Muguruza, the Wimbledon women's champion who's vying for the No. 1 ranking.=
Roger and Rafa 
At this stage of their careers, it is wise to treat every opportunity to see these all-time greats as potentially a last one. And root for them to keep winning so they can square off in a semi-final match next Friday evening, when in your mind the fall has already begun: They'll bring summer back. In their years-long rivalry, they have never met and battled in New York. If it happens, and you happen to have tickets to the men's semifinals, you will be able to sell them and fund a family vacation. But you won't.
 
Day 4: Doubles Play Begins

Doubles just doesn't get its due, whether on the show courts, on TV, or even in how we talk about tennis. This, despite the fact that if you are a recreational player, especially one of a certain age, doubles is what you are most likely to be playing. Doubles also happens to be a terrific game to watch. Even on the racquets of top pros, it comes across as less a gladiatorial battle and more of … well, more of a game. The players, if you can believe it, seem to be having fun! The doubles matches get under way today at the US Open, and, on the men's side, the best doubles players in the world will be sending up topspin lobs and carving volleys on courts where everyone feels like they have a front-row seat.
Henri Kontinen and John Peers vs. William Blumberg and Spencer Papa 
Kontinen (Finland) and Peers (Australia) are the top-ranked men's doubles team in the world, and what's most remarkable about them is that their strength is not volleying—considered to be a crucial aspect of the doubles game. The secret of their success is that they smack a lot of aces and win an overwhelmingly percentage of points on their first serves. Isn't that what Pete Sampras did?  In truth, they volley pretty well, too. Their opponents are a pair of young Americans ranked outside the top 500 hoping to come away with something to tell their friends about.  Start the day with this one: Court 4, 11 a.m.
Jamie Murray and Bruno Soares vs. Julian Knowle and Alexander Peya 
Murray and Soares, No. 1 in the world last year, are the only 2016 U.S. Open champions still around this year. Murray (Great Britain) is Andy's older brother, and his height and long arms make him a dangerous net player. Soares (Brazil), now 35, has spent nearly his entire playing career as a doubles specialist. He possesses menacing instincts for where an opponent's shot is headed and where he should send it back. Knowle and Peya are Austrians. Knowle is 43, but even more surprising, he hits all his groundstrokes and volleys with two hands. Peya, at 37, is not much younger but has won 14 doubles titles over the course of his career. This match will get under way on Court 6 in mid-afternoon.
Pierre-Hughes Herbert and Nicolas Mahut vs. Robin Haase and Matwe Middekoop 
There is no doubles player I'd rather watch than Mahut. His approach to shots, slices, and put-away volleys are textbook. And he's an affable showman. He and his fellow Frenchmen, Herbert, have been at or around the top of the rankings for several years now. Haase and Middekoop are a pair of Dutch journeymen,with Middekoop having had a fair amount of doubles' success at tennis' lower Challenger rung. It's not yet been determined which court this match will be played on.
 
Day 3: The New Kids

Grand Slam tournaments like the U.S. Open have narrative arcs as they unfold over two weeks. Subplots and snags, like yesterday's rain that led to dozens of matches being cancelled, can also make way for sudden bursts of high drama—how about that opening night Sharapova-Halep match! 
Another tradition in Flushing Meadows is the role, assigned in the first days of the tourney, of The Adored New Kid. In 2009, it was Melanie Oudin, the 17-year-old from Marietta, Georgia, who wound up fighting her way to the quarterfinals. Three years ago, it was CiCi Bellis, who won a first-round match at the age of 15. This year's candidate? He's playing in today's top match to watch:

Denis Shapovalov vs. Jo-Wilfried Tsonga (8) 
Shapovalov, 2017's Adored New Kid, is an 18-year-old Israeli-born Canadian who drew crowds to his qualifying matches last week in part on the strength of his upset of Rafael Nadal in Montreal a few weeks ago. He's a lefty with a sweeping one-handed drive backhand and loose-limbed quickness around the court. He's also full of tousle-haired charm, and, if his round-one win Monday is any indication, is playing fine and free. Tsonga, though, is formidable, if the Good Jo-Willie shows up.  At the age of 32, he's won three tourneys this year, mixing serve-and-volley with his power-baseline game. But he has long been one the least consistent top players on the men's tour, and, in best-of-five matches, can lose focus. The Open schedulers sense the fan fever for the young guy. The match is on the big stage, Arthur Ashe, tonight.
Sloane Stephens vs. Dominika Cibulkova (11) 
Is Stephens back? The big-swinger who, four years ago, at the age of 19, blasted her way into the Top 20 by upsetting Serena Williams in an Australian Open semifinal, has been plagued more recently by inconstant play and injuries. She's spent much of the last year recovering from surgery to repair a foot fracture. Now seemingly fit and determined, she reached the semis of tournaments in Toronto and Cincinnati earlier this month, and looked strong in her first-round win Monday over the Italian veteran Roberta Vinci. Slovakia's Cibulcova, 28, is a veteran, too, and she's had injury problems of her own. But last year she played some of the best tennis of her career, winning four titles and reaching No. 5 in the rankings. Like that of Stephens, her game is built on power. If you like big-strike aggression, women's style, this is a match for you. You'll hear the thwocking of the balls up close, on tucked up Court 10, late in the afternoon.
Borna Coric vs. Alexander Zverev (4) 
A year ago, these two were the best 19-year-olds on the men's tour. They may now be the best 20-year-olds, but a huge gap has opened up between them. Coric has struggled and drifted down the rankings. Zverev has risen to the very top of the men's game, trailing only Nadal and Federer in ranking points earned this year. Still, their contrasting styles make for engaging tennis. Croatia's Coric is a defensive baseliner, looking to settle into long rallies and wear his opponent down. Zverev, the German dynamo, is all about first-strike tennis: Seize control of a point and end it in four or five shots. They've met only once before, in Cincinnati, two years ago. Coric won in three grueling sets. This one is in the Grandstand, the Open's genial new venue, and is scheduled to get underway at 4 p.m.

Day 2: The 1980s vs. 1990s

One of the fun parts of early-round play at a Grand Slam is the opportunity to see the game's young phenoms, fresh to the Top 100, going head-to-head with tour veterans who've scaled the rankings to the summit at some point, or may still be perched up there. Upsets are rare, as they are in all sports. But the lack of familiarity on both sides of the net has a way of making for engaging matches, whatever the ultimate outcome. Here are three born-in-the-'80s v. born-in-the-late- '90s matchups, where you'll see someone, and, just as likely, something new. 
Angelique Kerber (6) vs. Naomi Osaka (59)
This one is up second during the day session in Arthur Ashe Stadium, and could well prove more competitive than the players' current rankings would indicate. Germany's Kerber, No. 6 in the world, ended last year as No. 1, but has struggled since. She lost in the first round of the French Open, and eight months into the season, has yet to win a tournament. Yet, at 29, she is still one of the best returners and defenders in the women's game when on, and she can deftly employ the slices and spins of a crafty lefty in big moments. Osaka could not be more different. A 5-foot 11-inch, 19-year-old born to a Haitian father and Japanese mother, she is all about offense: Serving big and hitting big from the baseline, especially from the forehand wing. She's ranked 59th, but seems to raise her game against the topmost. At Wimbledon, she lost a close match to Venus Williams, who eventually reached the final. By the way, both players will be debuting sensational Mondrian-esque dresses designed for Adidas by Pharrell Williams.
Marcos Baghdatis vs. Taylor Fritz 
Remember Baghdatis? Back in 2004 (!), he was one of only two players to take a set from Federer at the Open. In 2006, the Greek Cypriot reached the Australian Open final (where he lost to Fed) and entered the Top 10. The same year, he lost an epic five-set match in Flushing to Andre Agassi—the last win, as it turned out, of Agassi's career. Injuries came to plague Baghdatis, and he's now 32 and barely inside the Top 100. But he tends to play well at the Open—he reached the 4th round last year—and is one of the game's true entertainers. Fritz, 19, became the youngest American since Michael Chang in 1988 to reach a tour final in Memphis last year. He surged up the rankings but has fallen outside the Top 100 this year, perhaps owing to family responsibilities: He married last year, and the couple's first child was born in January. Fritz's game is established by his serve.  He is 6'4", and he brings it. You can find this match on the intimate Court 5, beginning 12:30 p.m.
Roger Federer (3) vs. Frances Tiafoe   
This one ends the day at Ashe. What's left to say about Federer? Perhaps this: He's going to be contest-testing the back he strained in his match against Sascha Zverev in Montreal two weeks ago, and he has not played competitively since. (He looked fine practicing over the weekend.) If he's suddenly hitting his forehand with his knees barely bent, or serving without leaping into the court, he's hurting. Tiafoe is a 19-year-old from College Park, Md. It was there, as a four-year old, that he was introduced to the game at the Junior Tennis Champions Center, which employed his father, an immigrant from Sierra Leone, as a custodian. He's ranked No. 70 but played two tough, tights sets against Fed in Miami in March before losing, and earlier this month scored an upset win over a tired Sascha Zverev in Cincinnati. Tiafoe has powerful, if unorthodox, strokes, and is a battler—he lost a heartbreaking five-setter in the first round of last year's Open. The question is: On tennis's biggest stage, will he be battling nerves as well as the winner of 19 Slams?
 
Day 1: The Return of Maria Sharapova

More than five dozen first-round matches are scheduled for today, and the forecast is perfect tennis weather: a mix of sun and clouds, and with high temperatures in the mid-70s, it's neither as hot nor as humid as it tends to be in New York in late August. If the crowds on hand for last week's qualifying matches were any indication, prepare to join lines and be jostled in Flushing Meadows, and to feel a bit like you are wandering a construction site, with a new Louis Armstrong Stadium going up and a smaller, barebones-bleacher temporary one not far from it. 
Despite the absence of so many marquee players, including Andy Murray, who withdrew yesterday with a hip injury that has nagged him all summer, there will be no lack of charged, or intriguing, or unfamiliar, or compelling tennis to see. Here are the three matches to watch today.
Maria Sharapova vs. Simona Halep  (2)
It doesn't get stranger than this: The U.S. Open granted Sharapova a wild-card entry, even though the French Open would not after she returned to the tour following a 15-month suspension for illegal use of the performance-enhancing drug meldonium. (Sharapova needed a wild-card to play in Flushing because her ranking plummeted during her ban.) Then, in the first round she draws Romania's Simona Halep, who has played terrific tennis all summer, is currently ranked #2 in the world, and is one of eight women players who could leave New York in two weeks ranked #1. And yet, Halep has never beaten Sharapova in six tries. A contrast in playing styles pits the attacker (Sharapova) versus defender (Halep) should make for engaging points. But Sharapova has battled injuries in the few tourneys she has played in these past months, most recently a sore left arm that forced her to withdraw weeks ago from the Bank of the West Classic in Stanford. Add in Halep's comments earlier this year criticizing Stuttgart's Porsche Grand Prix for granting Sharapova a wild-card entry and you've got high drama to get nighttime tennis underway in Arthur Ashe Stadium.
Claire Liu vs. Ying-Ying Duan 
After the first set of matches, head to Court 10 in the early afternoon, on the southern edge of the grounds, and get a glimpse of 17-year-old Liu, the world's top-ranked junior who hails from Thousand Oaks, California. Last week, she earned her way into the main draw as a qualifier by playing a cool brand of all-court tennis—that is, seeking to end lots of points with put-away volleys at the net—that's rare today in the women's game. Duan, from China, is 28, and has spent most of her career playing on the ITF circuit, a rung below the WTA tour. Chinese-Americans flocked to Liu's qualifying matches, cheering passionately and scrambling to take post-match selfies with her. Expect more of the same as she battles an opponent from the Chinese mainland. 
Bernard Tomic vs. Gilles Muller (19) 
Afterward, stay put at Court 10 for this men's match. Unranked Tomic is the Australian bad boy not named Nick Kyrgios: Following a first-round loss at Wimbledon, he was fined by the ATP after admitting that he was bored during the match and had called for a trainer—not because he was injured but to interrupt his opponent's momentum. Muller is a different sort of story. He's a 34-year-old from Luxembourg who, for years, had a reputation of not putting in the work and living up to his early promise. This season, though, on the verge of middle-age, he has broken into the Top 25 and currently sits at #19 in the world. At Wimbledon, he upset Raphael Nadal in a thrilling five-setter that is already a candidate for men's match of the year. He plays old-school serve-and-volley, chip-and-charge tennis, which is likely to have Tomic muttering even more than he normally does.
Before it's here, it's on the Bloomberg Terminal.
LEARN MORE