Venezuela Eyes Censoring Social Media After Public Shaming Wave
By
Consituent assembly plans to regulate services in upcoming law

Rodriguez says Venezuela victim of social media 'lynching'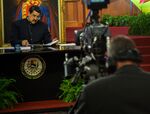 Venezuela is considering banning messages that promote "hate" and "intolerance" on social media and messenger services, according to Delcy Rodriguez, the president of the country's all-powerful constituent assembly.
Rodriguez told reporters on Monday that the South American nation is looking to limit messages that fuel bigotry and confrontation between Venezuelans in a so-called anti-hate law, which is currently being debated by the legislative super body, known as the constituyente.
"We're going to regulate and control because, in recent years, Venezuela has been victim of laboratories of physiological war that, through messages and social medial, promote a fratricidal war between Venezuelans," Rodriguez said. "We're not going to allow what happened in Rwanda repeat itself in Venezuela."
Rodriguez didn't provide details on how the government plans to monitor social media and on penalties for offenders. The new assembly will meet again tomorrow.
The anti-hate law comes as the government of President Nicolas Maduro has intensified a clampdown on the media, blocking the transmission of Colombian networks Caracol and RCV last week. Like his predecessor, the late Hugo Chavez, Maduro alleges that private media providers are conspiring with his political foes to undermine his socialist government.
Since April, a wave of protests against Maduro's government has claimed dozens of lives and left hundreds behind bars. In a bid to consolidate power amid a crippling recession, Maduro installed the consituyente earlier this month with the mandate to rewrite the country's constitution. The new legislative body has since bypassed the opposition-led congress and has been targeting the last strongholds of dissent in public institutions.
Rodriguez singled out a growing practice among Venezuelan expats of publicly heckling top-ranking government officials on trips outside of the country. The practice, known locally as escrache, is filmed on smart phones and is wildly shared on services like Instagram, Twitter and WhatsApp. In one recent escrache video, Caracas Mayor Jorge Rodriguez, who is the brother of the constituyente president, was filmed while being jeered during a trip to Mexico City.
Rodriguez said the practice fuels bloodshed and needed to be curbed.
"It starts by banging pots and pans around chavistas in a restaurant," she said of supporters of Chavez's self-styled brand of socialism, "And its finishes by burning chavistas alive."
— With assistance by Fabiola Zerpa
Before it's here, it's on the Bloomberg Terminal.
LEARN MORE