Refiner Shares Jump as Harvey Hoists Margins, Despite Shutdowns
By
About 15% of U.S. refining capacity is shuttered on storm

Gasoline crack spreads are soaring the most since February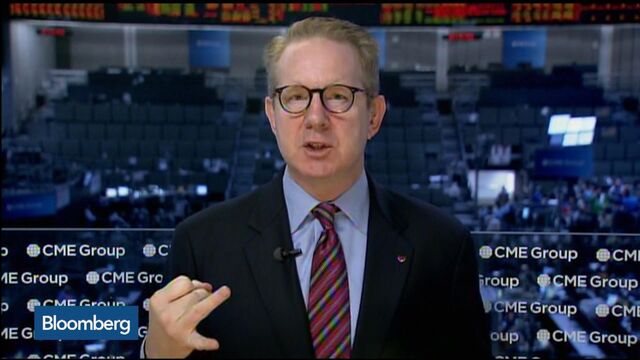 Refiner share prices jumped Monday with margins expected to rise on the fallout from Hurricane Harvey. They may keep rising.
"Overall, each refining company will tend to benefit (at least from a margins, earnings and stock price perspective) from periods of disruption like this, even if they have assets affected," Justin Jenkins, an analyst at Raymond James & Associates, wrote in a research note.
Flooding in Texas resulting from the storm has forced the shutdown of about 15 percent of U.S. refining capacity. Refiners are jumping on crack spreads, which measure the differential between crude and gasoline prices and act as a rough guide to the profits from processing crude into fuel, which are soaring. The gasoline crack spread was up as much as 18 percent Monday, the most since February, implying higher margins for those refineries that are still operational.
Shares should continue to rise in the coming days given past behavior, said Wells Fargo Securities analyst Roger Read. Refining equities have outperformed the S&P 500 Index and the NYSE Arca Exchange Oil Index by 6 percent to 19 percent in the 10 to 20 days following landfall of previous Gulf Coast hurricanes, he said.
The biggest share-price increases were at refiners with operations far from the Texas Gulf Coast that can take advantage of growing spreads without the risk of damage to their operations. Delek US Holdings Inc., HollyFrontier Corp. and PBF Energy Inc. each rose more than 8.5 percent Monday.

"The forecast path for Harvey would keep it in Southeast Texas through the middle of the week," Read wrote in a research note. "Thus in our view, disruptions to normal activities may persist, crack spreads are likely to remain elevated and refining equities are likely to respond positively."
Harvey, which was downgraded to a tropical storm on Saturday, is expected to dump as much as 50 inches of rain on the upper Texas coast, including the Houston and Galveston metropolitan region. The current daily refinery outage of 2.82 million barrels is about 15 percent of the U.S.'s 18.78 million per day capacity, according to Bloomberg data.
While refiners are likely to see near-term strength in margins, ultimately there will be a limited impact on earnings and valuation, Goldman Sachs analyst Neil Mehta wrote in a note.
Bloomberg Intelligence's refining index rose 4.3 percent while crude futures fell as much as 2.8 percent. Gasoline futures rose as much as 6.8 percent.
Before it's here, it's on the Bloomberg Terminal.
LEARN MORE