This Woman May Have the Toughest Job in Australia
By
New bankers' lobbyist faces fresh challenge following scandals

Anna Bligh seeks to fend off regulation while fostering reform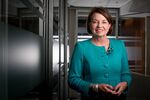 Anna Bligh may just have the toughest job in Australia: convincing the public that bankers aren't all bad in the wake of a series of explosive scandals.
Appointed head of the Australian Bankers' Association, the public face of the industry, less than six months ago, Bligh is out to rebuild the banking's reputation following allegations of money laundering and terrorism financing at the country's biggest lender, which come on top of charges that banks gave customers misleading financial advice and also rigged rates. Bligh's job now is to head off the threat of additional government intervention by proving change is more than skin deep.
"If you want to be trusted, you have to be trustworthy," Bligh said in an interview Aug. 14 at her Sydney office. "That means making some real changes to the way banks do business and the way banks treat customers.''
Bligh, who cut her teeth in left-wing politics, doesn't follow the model of previous blander and more backroom ABA chiefs who hailed from corporate and government affairs backgrounds. The 57-year-old was a star in the Labor Party as the first woman to win a state election and made her name directing a crisis response to devastating floods. 
Strong Enough
ABA Chairman and National Australia Bank Ltd. Chief Executive Officer Andrew Thorburn, who led the shortlisting process, said Bligh was appointed precisely because she was different. The group wanted someone who could connect with the community and "be strong enough to challenge us," he told the Australian newspaper in May.
Bligh, who overcame cancer in 2014 and tools around on a Vespa on weekends, says she's focused on making sure the voice of the public is heard. She's already sat in with call center staff listening to actual customer complaints and intends to do it again. 
Atop her list of reforms are how front-line bank staff are paid. An industry-commissioned review concluded in April that certain sales incentives carry an "unacceptable risk" of hurting customers. Bligh said all the banks have agreed to a "remarkable shift" -- essentially decoupling sales targets from pay.
"The world has changed, the circumstances in banks have changed, and they are not going back to the old ways,'' Bligh said.
The loss of public trust threatens more than just reputations. Commonwealth Bank of Australia shares have fallen more than 10 percent since the bank was accused of 50,000 breaches of money laundering and terrorism financing laws in early August. It follows a steep decline in May affecting all top five banks after the government announced an extra A$6.2 billion tax on the lenders.

Another wave of regulatory and political scrutiny could weigh on profitability and result in more burdensome rules. As a foretaste, the Australian Competition & Consumer Commission -- which is tasked with improving competition in the banking sector -- last week said banks must turn over board minutes in order to ensure they aren't passing on the cost of the new government tax to customers.
Some trace the roots of the current crisis to a false sense of security following the global financial crisis, which left Australian banks with their balance sheets and reputations largely unscathed. As commodity prices soared on demand from China, the economy kept growing, and banker-bashing was largely confined to low-level grumbling.
"We became a little bit complacent after the financial crisis, as both the Australian and Canadian systems came through quite well," said Fariborz Moshirian, director of the Institute of Global Finance at the University of New South Wales Business School.
Scandals have been breaking out since 2014: a finding of systematic misconduct in Commonwealth Bank's financial advice division; allegations that lenders including National Australia Bank, Australia & New Zealand Banking Group Ltd. and Westpac Banking Corp. tampered with the bank-bill swap rate -- the local equivalent of Libor, which the banks have denied; and charges that banks hadn't passed on the full benefit of central bank interest rate cuts to mortgage customers.
Political Crosshairs
Now, less than a third of Australians say they have a high level of trust in the banking industry, research commissioned by the ABA and released Monday found. 
The turmoil has put the lenders firmly in the crosshairs of Australia's politicians. Opposition leader Bill Shorten made calling for a far-reaching independent inquiry a central tenet of his 2016 election campaign, claiming that banks were involved in "rip-offs and rackets" and enriching their bottom lines with fees. Prime Minister Malcolm Turnbull -- who secured only a wafer-thin majority -- ordered bank CEOs to face regular parliamentary committee grillings to justify their policies.
"Now Australian banks are really starting to feel the political and regulatory heat over assorted scandals just as banks in the U.S. and Europe, who were forced by public and regulatory scrutiny into big changes, are now starting to recover their reputations," said Moshirian.
Pressure Intensifies
Following the money laundering allegations at Commonwealth Bank, the pressure for change has intensified further -- with even the central bank governor joining in the criticism. The lender says it intends to defend the suit. In a speech earlier this year, Bligh calculated that 37 major reviews and inquiries have been set up to probe Australian banks in the last five years, of which 18 came within the last two.
"Politics are now swinging against the banks," Sydney-based CLSA Ltd. banking analyst Brian Johnson said in a note to clients. On Monday, Moody's Investors Service said the regulatory probes are "credit negative" for Commonwealth Bank, while Credit Suisse AG on Tuesday cut its price target for the lender by A$9. Shares fell 1.2 percent during the day, closing at A$75.73.
What the industry needs to do, Bligh said, is focus on implementing the reforms already underway. The ABA is currently championing initiatives including boosting whistle-blower protection, appointing customer advocates in banks and stopping those dismissed for misconduct from one bank getting a job at another. She aims to persuade all the ABA's members to see the changes through. 
"You can't communicate your way out of a reputational problem like this," she said. "There is only one way to do that: do the hard yards and make the changes necessary."
The response from the Commonwealth Bank board to the money laundering allegations indicates some change. It stripped all senior executives of their short-term bonuses and announced that CEO Ian Narev would step down next year.
Regulator Frustration
Yet there's still notable frustration with the banking industry among the country's regulators. The head of the Australian Securities & Investments Commission, Greg Medcraft, told lawmakers in August that regulators "routinely encounter a culture of seeking to delay and frustrate our surveillance, investigation and enforcement work," adding that while "the tone from the top might have been positive, this goodwill often seems to not translate" down the line.
Adding to the banks' woes, this reputational crisis is coming as the operating environment is getting tougher. An extraordinary housing boom that supercharged lending profits is drawing to a close as regulators clamp down. In June, Moody's downgraded all of the big banks.
Bligh says she was expecting a challenge. She hasn't been disappointed.
"Real change can and will be painful," she said.
Before it's here, it's on the Bloomberg Terminal.
LEARN MORE