Rattled South Korean Stocks Have a Secret Weapon
By and
Stocks slide in Seoul with won as North Korea tests again

Analysts expect Kospi company earnings to jump 88% in 2017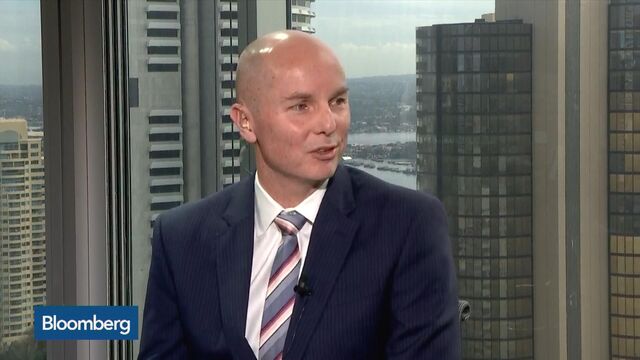 Start your day with what's moving markets in Asia. Sign up here to receive our newsletter.
North Korea's latest missile launch is triggering losses in assets across the border, with stocks dropping to a two-week low in Seoul and the won down the most in Asia. But the pullback may not last for long.
The South Korean market has a track record for resilience, shrugging off Kim Jong-Un's provocations in the past, even as the war-of-words with the U.S. has intensified. While it has retreated from a record high reached in July, the Kospi index is still up 16 percent this year, gains that could get a further boost from company earnings. Despite the regional tensions, equity analysts have high hopes, forecasting Kospi company profits to almost double this year.
"Investors now have a high tolerance of North Korea's provocations after the previous tensions," said You Seung-Min, chief strategist at Samsung Securities Co. in Seoul. "Market impact will be limited as investors aren't pricing in a worst-case scenario."
Firms in benchmark Kospi will post earnings per share of 236.10 won in 2017, representing an 88 percent jump from last year and the highest profits since 2010, according to analyst estimates collated by Bloomberg. The annual estimate is based on forecasts for individual stocks in the benchmark and is updated throughout the year as analysts freshen their projections.

Profits for firms in the MSCI Korea Index are projected to climb 27 percent over the next 12 months, compared with a 10 percent increase for MSCI Asia Pacific Index members, and a forecast of 24 percent for companies in the global benchmark.
Should these results come to fruition it would mark a big rebound for the Kospi gauge, which has seen annual earnings drop the past two years, down 22 percent from 2014 levels.
"This year is a big bump," said Ben Luk, global macro strategist with State Street Global Markets in Hong Kong. "We're not just expecting an EPS growth story, but a re-rating story in Korea. We do expect dividends to pick up, buybacks to pick up" as the country goes through governance reforms, he said.
Latest Move
Tuesday's missile launch is the latest provocation from North Korea, which has ratcheted up tensions with U.S. President Donald Trump in 2017.
Read more: What U.S.-North Korea Hostilities Might Look Like: QuickTake Q&A
There have been plenty of headwinds for Korean stocks closer to home as well, with the impeachment of former South Korean president Park Geun-hye and Samsung Group heir Jay Y. Lee's conviction Aug. 25 on bribery charges. His lawyer said Lee will appeal.
Much of the credit for the improved profit outlook can be attributed to bountiful earnings at technology firms including Samsung Electronics Co. and SK Hynix Inc., the two largest companies on the Kospi.
Smartphone giant Samsung posted quarterly results that beat analyst estimates last month, fueling its 26 percent gain this year. SK Hynix, which supplies memory chips to Apple Inc., has surged 50 percent in 2017 and posted a record quarterly operating profit on July 25.
Cyclical Factor
"The optimism of Korean analysts is not because of their nature, but rather because of the industrial characteristics of South Korea, where a lot of cyclical companies are located," said Noh Keun Hwan, a strategist at Korea Investment & Securities in Seoul. "When analysts estimate earnings of companies with high volatility, they tend to see the upside growth rather than a downside risk."
Analysts, limited in the tools available to them in estimating company orders or sales, often err to the upside if firms haven't provided that data, says Il Goo Kim, head of research at Hanwha Investment & Securities in Seoul.
This means analysts consistently overshoot. The median gap between what Korean companies actually earned versus analysts' forecasts was 15 percentage points between 2000 and 2016, according to annual data from Korea Investment & Securities.

Another reason for Korean analysts' bullishness is their often close relations with the nation's family-run conglomerates, known as chaebols. The combined market capitalization of the nation's five biggest chaebols -- Samsung, Hyundai, LG, SK and Lotte -- represents more than half of the Kospi gauge.
"There is a risk analysts are blocked from getting information on companies" if those relationships are damaged by a negative report, says Noh at Korea Investment. Many brokerages are affiliates of the chaebols, so analysts working at the firms are "in favor of the conglomerates," said Hyun Choi, head of equity at Baring Asset Management Korea.
'Investment Risk'
The Financial Supervisory Service, Korea's top regulator, unveiled a series of measures in June to encourage analyst independence, including a regulation forcing brokerages to show the gap between price targets and the actual stock price. Analysts rated about 89 percent of covered companies a "buy" in 2016, according to Korea's top financial regulator.
The Kospi slipped as much as 1.6 percent as of 1:04 p.m. in Seoul, leading a wider retreat in Asian equities and other risk assets. The won weakened 0.4 percent, falling from its strongest level since the start of August.
And not everyone is sanguine on the North Korea factor. South Korean "investment risk" is rising as Pyongyang escalates tensions, Huh Nam Kwon, chief executive officer at Shinyoung Asset Management Co. in Seoul, said in an interview Tuesday.
The issue could start affecting the Kospi's fundamentals, he said. "Uncertainties are rising -- it's hard to predict what will happen next."
— With assistance by Ricky Ha
Before it's here, it's on the Bloomberg Terminal.
LEARN MORE