German Students Hit 201 MPH in SpaceX Hyperloop Contest
Elon Musk, who devised the hyperloop transportation concept, declared the result`incredible.'
By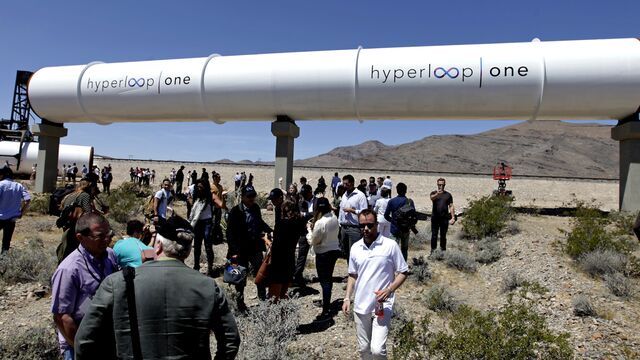 A student team from Germany demonstrated an experimental hyperloop vehicle on Sunday that topped 200 miles an hour—faster than a capsule built by a venture-backed startup.
The feat occurred during a contest sponsored by Elon Musk's Space Exploration Technologies Corp. to build a futuristic mode of transportation known as the hyperloop. The team, comprised of students from the Technical University of Munich, raced a "pod" that hit a peak speed of 201 miles an hour on a nearly one-mile track. 
"Two hundred miles per hour for a student-built pod is incredible," Musk said after announcing the results to a crowd gathered by the track outside SpaceX headquarters in Hawthorne, California.

In a 2013 white paper, Musk called for a hyperloop transportation system using a train-like capsule that floats on air and travels at airplane speeds through a low-pressure tube. Sunday's test was far below the more than 700 miles per hour Musk originally proposed but well over speeds in a previous student contest in January.

It also topped the 192 miles per hour reported after a June test by Hyperloop One, a Los Angeles-based commercial company. Hyperloop One was using a much shorter track of about one-third of a mile and was building to commercial standards, including using a much larger vehicle.
To move its pod, the Munich team used wheels rather than the levitation technology generally associated with hyperloop. SpaceX executive Steve Davis described it as "a very fancy version of an electric car." Musk also runs electric carmaker Tesla.
After several years of saying he would leave building a hyperloop to others, Musk is now moving ahead with plans to build his own, Bloomberg reported earlier this month. He's now also working on a tunnel business called The Boring Co.
Swissloop, a consortium of students from universities in Switzerland, and Paradigm, a group of students from northeastern U.S and Canadian colleges, were finalists. 
Before it's here, it's on the Bloomberg Terminal.
LEARN MORE