Traders Hunker Down as Stock Futures Slip on Korea Missile
By and
September mini contracts fall after cash market ended flat

One of year's big volatility bouts after Aug. 8 Trump threat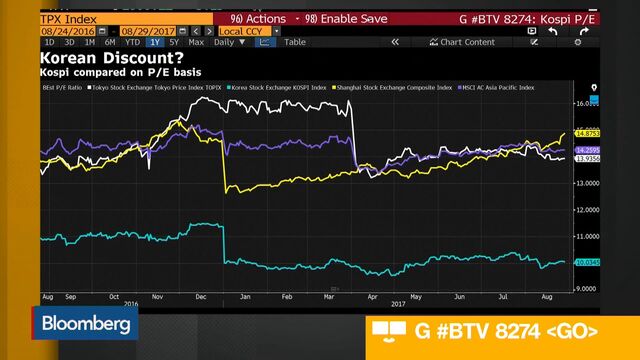 Futures on the S&P 500 Index fell as North Korea's firing of a missile over Japan rekindled geopolitical angst two weeks after U.S. President Donald Trump warned aggression would be answered harshly.
September contracts dropped 0.8 percent as of 4:33 a.m. in New York. Futures on the Dow Jones Industrial Average lost 0.6 percent while Nasdaq 100 Index contracts decreased 1 percent. The missile landed about 1,200 kilometers (745 miles) off Hokkaido in the Pacific Ocean, Japan Chief Cabinet Secretary Yoshihide Suga told reporters, adding there were no reports of damage.
Asian stocks fell, with Japan's Nikkei 225 retreating 0.5 percent as traders braced for an escalation of tensions that have previously been capable of piercing the calm in global equities. South Korea's Kospi Index slid as much as 1.6 percent, the most in more than two weeks, before paring the loss to 0.2 percent at the close.

Japan's Prime Minister Shinzo Abe said he agreed with Trump to increase pressure on North Korea following a 40-minute phone call on Tuesday morning. He urged China and Russia to join in taking action against Kim Jong Un's regime. South Korea conducted bomb-dropping drills after President Moon Jae-in ordered a show of force against the provocation.
"The North Korean threat is rising, the geopolitical situation is tense," said Ipek Ozkardeskaya, senior market analyst at London Capital Group. That's weighing on U.S. futures and global stock markets, she said.

The CBOE Volatility Index jumped 23 percent, heading for its biggest advance in more than a week.
"Things could spin out of control," said Erick Ormsby, chief investment officer of Alcosta Capital Management in San Ramon, California. "Investors are worried that Trump will do something to cause an attack on North Korea. If that happens, you'd have a lot of uncertainty."
Some of the stock market's biggest swoons have recently come amid anxiety over North Korea. Abe called the firing an "unprecedented, grave and serious threat." Japan has asked the United Nations Security Council to hold an emergency meeting.
Two weeks ago, the S&P 500 halted an unprecedented stretch of calm in American equity markets and the CBOE Volatility Index spiked to its highest since April after Trump dialed up his warning on threats to American allies. He said on Aug. 8 that North Korea will be "met with fire and fury" if Kim's regime keeps making threats.
The reaction in futures followed a relatively calm session in which investors weighed damage from Tropical Storm Harvey on Texas. In regular trading Monday, U.S. stocks ended mixed, oil declined and gold broke through $1,300 an ounce.
"As of now, it looks like a knee-jerk reaction to a surprising piece of news," Frank Cappelleri, a technical analyst at Nomura Instinet LLC, said of the futures trading. "Similar occurrences to other geopolitical events have come and went without a major long-term effect the last few weeks."
On Saturday, North Korea fired three short-range ballistic missiles, a move that came after Kim Jong Un's regime strongly criticized U.S.-South Korea joint military drills. U.S. Pacific Command said that afternoon that two of the missiles flew 250 kilometers. The other appeared to have blown up immediately.
The U.S. and its allies have warned Kim against following through with a threat to launch missiles toward Guam, home to key American military bases in the Pacific. Japan earlier this month deployed four Patriot missile interceptors into the western part of the country, which would be under the flight path toward the U.S. territory.

North Korea has conducted more than a dozen missile tests this year, including two ICBMS, leading to a war of words earlier this month between Trump and Kim's regime that rattled global markets. Tensions cooled in recent weeks, with Trump saying last Tuesday that Kim was beginning to respect the U.S.
— With assistance by Filipe Pacheco
Before it's here, it's on the Bloomberg Terminal.
LEARN MORE