Five Things You Need to Know to Start Your Day
Get caught up on what's moving markets in Asia.
By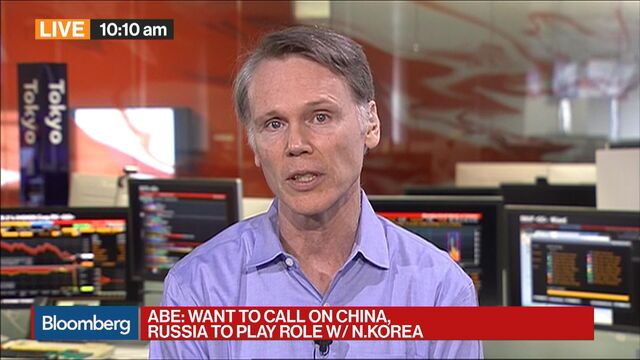 Want to receive this post in your inbox every morning? Sign up here.
North Korea fires missile over Japan, Harvey roils commodity markets, and Amazon pushes down prices everywhere. Here are some of the things people in markets are talking about.
Provocation Escalation
North Korea appeared to have fired at least one missile that passed over Japan, according to accounts by Japanese and South Korean authorities reported by local media. The Japanese yen advanced below 109 relative to the greenback as the news hit the wires, while S&P 500 futures fell as much as 0.9 percent. Japanese Chief Cabinet Secretary Yoshihide Suga  said the projectile flew over Erimo Misaki and fell into the Pacific Ocean.  The Pentagon confirmed the missile launch and its flight path, adding that it did not pose a threat to North America. The persistent ratcheting up of tensions by Kim Jong Un's regime has yet to dent the enthusiasm of South Korean equity analysts, who have high expectations for earnings growth this year.
Harvey Havoc
In financial markets, ripple effects stemming from the hurricane that devastated large swaths of Texas over the weekend were most widely felt across the commodity complex. Crude tumbled while gasoline rose as the storm could disrupt up to 30 percent of the nation's refining capacity. West Texas Intermediate fell as much as 3.6 percent before rebounding in the afternoon on reports that Saudi Arabia and Russia will push for an additional extension of the deal between producers to limit output. Shares of refiners jumped on the widening crack spreads. More than one third of U.S. chemical production has also been affected by the storm. Cattle futures touched their highest level in nearly three weeks as livestock on many ranches were stranded in floodwater. Harvey has been downgraded to a tropical storm, but is poised to regain strength and hit the Texas-Louisiana border on Wednesday.
Lower Prices
Amazon's first day as the owner of Whole Foods caused prices to fall for fruit -- and credit. Prices at the upscale supermarket were slashed by up to 43 percent -- another sign that the new parent company is not proritizing margins. Competitor Fresh Market Inc. saw prices on some of its bonds hit record lows; a broader index of U.S. grocers saw yields jump to their highest level in more than a month. Shares of the e-commerce giant finished up 0.1 percent.
Calm Amid the Storm
Benchmark U.S. equity gauges were virtually unchanged Monday as strength in tech behemoths and health care stocks offset pockets of weakness tied to Hurricane Harvey.  Insurers were among the worst-performing segments in the S&P 500 Index, and the catastrophe is likely to lead to increased costs for both those firms and reinsurers. Homebuilders with exposure to the affected areas were also acutely challenged. Gold futures posted their first close above $1,300 an ounce since November, buoyed by a sinking U.S. dollar and inflation-protected Treasury yields. The Mexican peso took a bath on Monday after U.S. President Donald Trump tweeted that the other parties in Nafta were being "difficult" during renegotiations, and reiterated his claim that Mexico will pay for a wall across America's southern border. The other partner in the trade deal, Canada, saw its currency lag all G-10 peers on Monday, though this was more a function of oil's precipitous drop.
Coming Up...
The missile launch will likely overshadow jobs day in Japan. Data out at 8:30 a.m. Tokyo time is expected to show the unemployment rate held steady at 2.8 percent in July. Pay gains have been the one missing ingredient amid the nation's mini-boom of six straight quarters with an expanding economy. Nikkei 225 equity futures plunged about 2 percent after the North Korean missile launch.
What we've been reading
This is what caught our eye over the last 24 hours.
Before it's here, it's on the Bloomberg Terminal.
LEARN MORE