Expedia Drops With CEO Khosrowshahi Poised to Lead Uber
By
Online travel agent in midst of major HomeAway integration

Expedia is growing amid competition from Priceline, Airbnb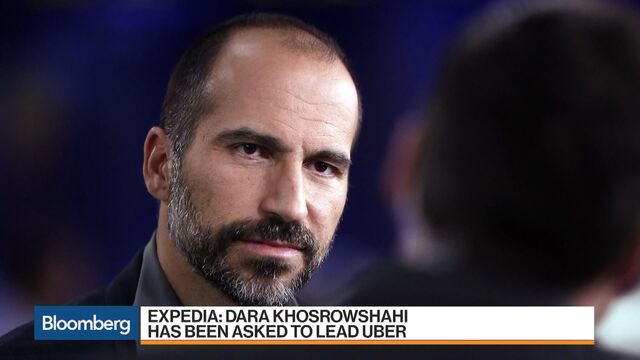 Dara Khosrowshahi saw Expedia Inc. through 12 years of stock gains, multibillion-dollar acquisitions and fierce competition from nemesis Priceline Group Inc. The news that he's said to be leaving to run Uber Technologies Inc. sent shares down the most in more than a year.
Khosrowshahi emerged as a surprise choice to lead Uber, according to people familiar with the situation. Most speculation had centered on Hewlett Packard Enterprise Co. Chief Executive Officer Meg Whitman and General Electric Co. Chairman Jeffrey Immelt.
Expedia's stock fell as much as 5.4 percent Monday, the biggest intraday drop since June 2016. Khosrowshahi has been leading Expedia through a tricky period of integrating Orbitz and HomeAway, two acquisitions he pulled off in 2015 that super-sized the company and launched it into direct competition with Airbnb Inc. in the fast-growing home rental market.
"It's definitely a loss for Expedia," said Douglas Quinby, of the research firm Phocuswright. "Dara's a rock star; the Expedia story over the past decade is an extraordinary one. However, he's also built a pretty deep bench." Quinby said CFO Mark Okerstrom is a likely candidate to replace him.

"Nothing has been yet finalized, but having extensively discussed this with Dara I believe it is his intention to accept," Expedia Chairman Barry Diller wrote in a letter to employees that was later filed with securities regulators. If Khosrowshahi does choose to go, Diller added, "he will leave behind a tremendously talented corps of executives."
Over 12 years, Khosrowshahi pushed annual revenue to around $10 billion from $2 billion the year he took over. Shares have gained more than 600 percent and Expedia now exceeds Priceline in the total amount of bookings it manages through its platform. He oversees more than 20,000 employees working at 17 different branded businesses.
Expedia's businesses span a broad spectrum of the online travel booking industry. Each unit, such as Hotwire or Hotels.com, is generally run independently, while the CEO's office focuses on overall strategy, acquisitions and integrating new deals. The company holds a majority stake in Trivago NV, which went public in December.
The leadership vacuum could see a short-term impact but it's unlikely to hurt the company down the road, SunTrust analyst Naved Khan said in a note to clients. "We do not expect to see a material negative hit to the business's performance given the deep executive bench and the organizational set-up of the company," Khan said.
Khosrowshahi's tenure hasn't been spotless. Last year, the company fell as much as 12 percent in a single day after revenue growth took a hit when difficulties integrating the back-end systems of Orbitz and Expedia led to service disruptions.
On top of trying to win a fair share of the home-rental market, Expedia is facing the growing threat of Alphabet Inc. pushing deeper into the travel market. Chinese travel giant Ctrip.com International Ltd. is also pushing beyond Asia, buying Scottish online flight booker Skyscanner last year and pledging to become a more global company.
On the home-rental side, Expedia has a long way to go before HomeAway competes more directly with Airbnb. HomeAway and its partner site VRBO serve vacation rental markets whereas Airbnb's strength is in urban centers. Expedia is working on getting consumers used to paying a booking fee, a new revenue-generating measure HomeAway didn't previously charge, and some long-time hosts were irked when Expedia discontinued the ability to run their businesses offline.
— With assistance by Gregory Calderone
Before it's here, it's on the Bloomberg Terminal.
LEARN MORE