Angola Starts Talks With Banks for $2 Billion Eurobond Sale
By and
Government has not yet selected banks to lead the Eurobond

A $2 billion deal would be the biggest so far from Angola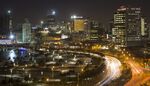 Angola is in talks with banks to raise $2 billion via a Eurobond in what would be the OPEC member's biggest debt sale on global capital markets.
The government has yet to choose banks to lead the deal and media reports that Russia's VTB Bank PJSC has the mandate are false, the Finance Ministry said in an emailed statement. The Eurobond issuance was approved by a presidential order on Aug. 4 and will help Angola lengthen its maturities, as well as make it easier for other borrowers from the country tap the market, according to the statement.

"This process has several strategic objectives, namely the extension of the debt profile and the creation of a reference price for national agents," the statement said.
Africa's second-largest crude exporter is in its worst economic crisis since ending a civil war in 2002 and the Eurobond announcement comes three days after the ruling MPLA party won Aug. 23 elections. President Jose Eduardo dos Santos is stepping down after 38 years in power and -- if the results stand -- he'll be replaced by MPLA candidate Joao Lourenco on Sept. 21. The two main opposition parties have rejected the provisional results.
The sale may only take place toward the end of 2017 and can only happen after a new president and government are appointed, an official at the finance ministry said.
Angola's economic growth fell to zero last year after averaging almost 9 percent in the previous 15 years. The kwanza has sunk 42 percent against the U.S. currency since the crash in crude prices in 2014, but is still overvalued and may be weakened another 20 percent by the end of 2018, which would make foreign debts more expensive, analysts at BMI Research said Aug. 25.
Angola last sold Eurobonds in 2015, when it raised $1.5 billion of 10-year securities. Their yield rose one basis point to 8.35 percent as of 2:18 p.m. in Luanda, the capital. They've handed investors a 17 percent return this year, more than double the 8.2 percent average for emerging-market dollar bonds.
— With assistance by Henrique Almeida
Before it's here, it's on the Bloomberg Terminal.
LEARN MORE