Alito Temporarily Blocks Decision Voiding Texas Voting Districts
By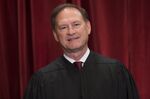 Supreme Court Justice Samuel Alito temporarily blocked a lower court's decision that two Texas congressional voting districts were the product of racial discrimination and needed to be drawn.
Acting on a request from Texas, Alito issued an administrative stay Monday that will last at least until Sept. 5, the deadline he set for the groups challenging the districts to file a response. The parties had been scheduled to appear before a lower court on that date to discuss the drawing of a new map. Alito gave no explanation for the order, which comes as Texas officials cope with record flooding from Hurricane Harvey.
Before it's here, it's on the Bloomberg Terminal.
LEARN MORE