Euro Surges to Highest Since January 2015 After Draghi Speech
By and
ECB president focuses on protectionism, not gains in currency

Greenback swoons in largest daily decline since March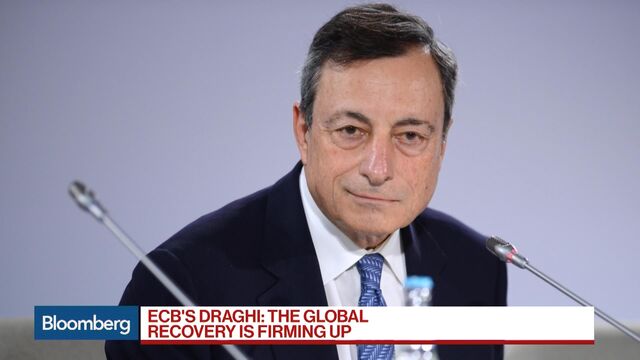 The euro rallied to its highest since January 2015 as European Central Bank President Mario Draghi took a pass on talking down the common currency in remarks at the Jackson Hole economic symposium, clearing the way for bulls to keep buying.
The Bloomberg Dollar Spot index dropped to its lowest since January 2015 after Draghi's remarks, before mildly paring losses. The greenback was lower versus all of its G-10 peers and Treasury yields were generally down on the day, after Federal Reserve Chair Janet Yellen also avoided discussion of monetary policy in an earlier speech. The afternoon Draghi speech and morning Yellen remarks would have disappointed any traders looking for the ECB chief to push back on gains by the euro or for the Fed chair to underscore the potential for another rate hike this year.

Draghi focused his published remarks on the risks of protectionism and said "openness to trade is under threat, and this means that policies aimed at answering this backlash are a vital part of the policy mix for dynamic growth." In answering questions after his speech, he said the ECB has to "remain on guard" as it has yet to see sustained convergence of inflation to its goal, after which the euro retreated slightly
Yellen earlier called for modest regulatory reform to maintain financial stability. The closest she came to the economy was to acknowledge that "substantial progress has been made toward the Federal Reserve's economic objectives of maximum employment and price stability"
The greenback was set for a weekly loss of about 0.7 percent, with its drop Friday the steepest since March
EUR/USD rose more than 1% to 1.1941, its biggest gain in a month, before paring gains to trade around 1.1920. Draghi's decision to refrain from pushing back on the euro's strength helps position EUR/USD to climb to 1.22 by year-end, Credit Suisse strategist Shahab Jalinoos said
After Yellen's remarks were released at 10am ET, USD/JPY fell to a fresh daily low at 109.12. Just moments before the remarks, the pair minted a new high for the week at 109.84 as stop-loss buy orders appeared to trigger above the interim high at 109.77 that had coincided with technical resistance. The pair subsequently dropped as the yield on the 10-year Treasury fell to a daily low below 2.17% as the Fed chair failed to indicate any particular rush to implement a third interest rate hike this year
GBP/USD rose to near its highest of the week at 1.2889 before offers near 1.2890 capped gains, a recently defensive pound taking advantage of its weakened U.S. peer
Before it's here, it's on the Bloomberg Terminal.
LEARN MORE