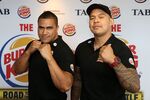 Restaurant Brands International Inc. made its post-merger ascent look easy. Staying up there won't be.

Shares of the fast-food operator topped out in early July at $62.65 apiece, their highest level since the company was formed through the merger of Burger King and Tim Hortons in 2014 (in fact, Saturday marks the three-year anniversary of the accord). As the chart above shows, the shares have met resistance over the past few weeks in getting back to that record level, inching close but falling down each time. Investors may as well get comfortable here.
Restaurant Brands is already one of the most expensive stocks in the North American restaurant industry. Its $40 billion enterprise value is equal to 17.8 times estimated Ebitda for the next year, while the industry commands a median multiple of just 12. That means Restaurant Brands' valuation can't justifiably move much higher without the denominator in that equation -- profit -- increasing first. And that's where the challenge comes in.

Restaurant Brands is backed and managed by 3G Capital, a private equity firm that's become synonymous with ruthless cost cutting, which produces industry-leading margins. As I noted in my assessment last year of the Burger King-Tim Hortons mega-merger, 3G's people have already pushed both chains' profit margins to well above their pre-deal levels. Their goal is to do the same with Popeyes Louisiana Kitchen Inc., the fried-chicken chain Restaurant Brands acquired earlier this year for a steep $1.8 billion -- which equated to the highest multiple of revenue ever paid in the industry.
But further profit growth is about to get difficult, even for the margin-milking masters at 3G. For starters, Burger King is continuing to face pressure because McDonald's Corp. is on top of its game right now. The roll-out of McDonald's mobile-ordering app will only extend its lead, while Burger King appears to be moving more slowly on the technology front. McDonald's domestic same-store sales growth also already pulled ahead of Burger King's this year, so for Burger King to catch up it may need to spend on more enticing menu additions and/or offer more value items.

That said, the real concern isn't Burger King, but rather Tim Hortons, where a lawsuit by its franchisees may lead to an unforeseen tightening of margins. There was a good Bloomberg News article last month that detailed the franchisees' complaints, chief among them that they're being squeezed by higher costs implemented by Restaurant Brands:
At Tim Hortons, corporate is now charging franchisees more for everything from rent to bacon, which they say is hurting their bottom lines, boosting prices at the register and irking customers.
This means management will likely have to hold off on price increases on its franchisees, whose frustrations may also slow store development and thus limit sales growth, according to Michael Halen, a restaurant analyst for Bloomberg Intelligence. Remember, the purchase of Tim Hortons -- a mainly Canadian coffee-and-doughnut chain -- was billed as an international growth opportunity. The hyped-up expansion has already been occurring more slowly than shareholders expected, so this lawsuit will only create further drag.
Popeyes looks to be the most compelling part of Restaurant Brands at the moment, even if the company did pay through the roof for it. The U.S. expansion plan is more clear-cut than the one laid out for Tim Hortons, and overseas a path has been forged by Yum! Brands Inc.'s KFC chain. Even so, Popeyes is bite-size compared with Burger King and Tim Hortons and won't do much to move the needle initially. 
Restaurant Brands shareholders should just grab a coffee and a seat at a booth. They may be here a while. 
Before it's here, it's on the Bloomberg Terminal.
LEARN MORE