Xi's Deleveraging Poised to Collide With Rising Real Rates
Bloomberg News
SocGen says Beijing's resolve to curb debt to meet 'true test'

Slowing producer price increases to squeeze corporate profits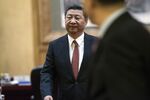 Start your day with what's moving markets in Asia. Sign up here to receive our newsletter.
China's surging producer prices helped increase corporate profits and supported growth, opening a window for President Xi Jinping to get tough on the country's spiraling debt.
Now, just as his plan to deleverage the economy gains momentum after last month's National Financial Work Conference, it risks colliding with rising real interest rates. With producer-price increases forecast to decelerate, real rates for industry are poised to rise to 2.85 percent in the first quarter of 2018 from a negative 2.25 percent in the first half of this year, according to Bloomberg's consensus estimates.

The upshot: a squeeze on corporate profits and higher debt servicing costs, especially for upstream companies that are among the nation's most indebted. That'll leave Xi having to choose between easing up on deleveraging or accepting a deeper economic slowdown.
"Beijing's resolve to deleverage will meet its true test," said Yao Wei, chief China economist at Societe Generale SA in Paris. "They will have to choose again between slower growth or a further build up of debt."

As rising real rates squeeze corporate profits, the central bank will also face the challenging choice of whether to offset that with easier monetary policy. The Finance Ministry will also be tested after front-loading its fiscal spending this year to backstop expansion ahead of the 19th Communist Party Congress in the autumn.
Read More: Party Congress Means China Has Spent Year-End Surge Already
China should view curbing state-enterprise ­indebtedness as "the priority of priorities" and hold regional officials accountable "for a lifetime" if they fail to prevent reckless borrowing on their watch, Xi said at a ­financial policy gathering last month. That emphasis on cutting debt, when combined with a slowing housing market and a high base effect for factory prices from a year earlier, points to a deceleration in industrial prices in the second half. 
They'll fall to 0.1 percent in the fourth quarter then drop 1.6 percent in the first quarter as base effects kick in and upstream materials prices slide amid the slowing housing market, Yao estimates. Producer prices rose 5.5 percent in July, the same pace as May and June.
Reflationists Disappointed
As growth decelerates, the pickup in price pressures during the past year will unwind, disappointing those hoping for a sustained reflation to help ease the corporate debt burden, says Julian Evans-Pritchard, a China economist at Capital Economics Ltd. in Singapore.
Last year's recovery in commodity prices buoyed profitability for excess capacity manufacturers in industries from mining to materials, temporarily bailing them out of a growing debt hole, wrote Gene Frieda, a global strategist at Pacific Investment Management Co. in London, in an emailed note Aug. 18. But as slowing activity and tightening credit begin to weigh on commodity prices, Frieda sees debt stress in the sectors likely rising once again.
For upstream industrial firms, lower producer price gains are effectively the same as lower profit growth and weaker cash flows, and make it more difficult to service debt, he said.
"We expect that to put pressure on non-performing loans, which will continue rising in the financial system," Pritchard said. "We expect financial strains as a result."
Deleveraging, however, may be smoother if producer prices are stickier than anticipated, supported by ongoing cuts in industrial capacity in industries from steel to aluminum. PPI inflation has been stable in the past three months, supported by rising commodity prices.
Read More: China Remains Global Inflation Backstop as Smelters Close
If authorities push ahead with further capacity cuts, prices may not ease as much as economists expect, according to economist Andrew Polk, co-founder of research firm Trivium China in Beijing.
"Ultimately, there will have to be a choice among China's leadership about how far it wants to go on financial de-risking and deleveraging," he said. "It's all well and good to enact some discipline when the economy has a solid tailwind, but Xi's resolve will be tested when the economy takes another genuine turn for the worse."
— With assistance by Kevin Hamlin, and Xiaoqing Pi
Before it's here, it's on the Bloomberg Terminal.
LEARN MORE