Texas's Loss Is Refining Stocks Gain as Hurricane Boosts Margins
By and
Gasoline crack spreads surged as storm approaches Texas

Gulf Coast refineries and offshore platforms shutting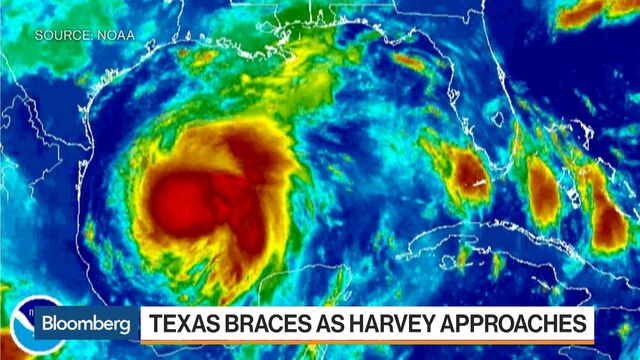 As long as Harvey is sending U.S. refining margins soaring, the equity market seems to be happy with the hurricane that's threatening to wreak havoc on the Gulf Coast of Texas.
While the tempest may flood refineries in Houston and Corpus Christi, refining stocks climbed as investors focused on the 13 percent surge in the so-called gasoline crack spread, a rough measure of profits from processing crude into fuel.
"Cracks typically increase with storm-related production outages as the impact on refinery runs is larger than the impact on demand," Brad Heffern, an analyst at RBC Capital Markets, said in a research report. "It is fair to assume a small portion of refining production will be scaled back as the storm makes impact."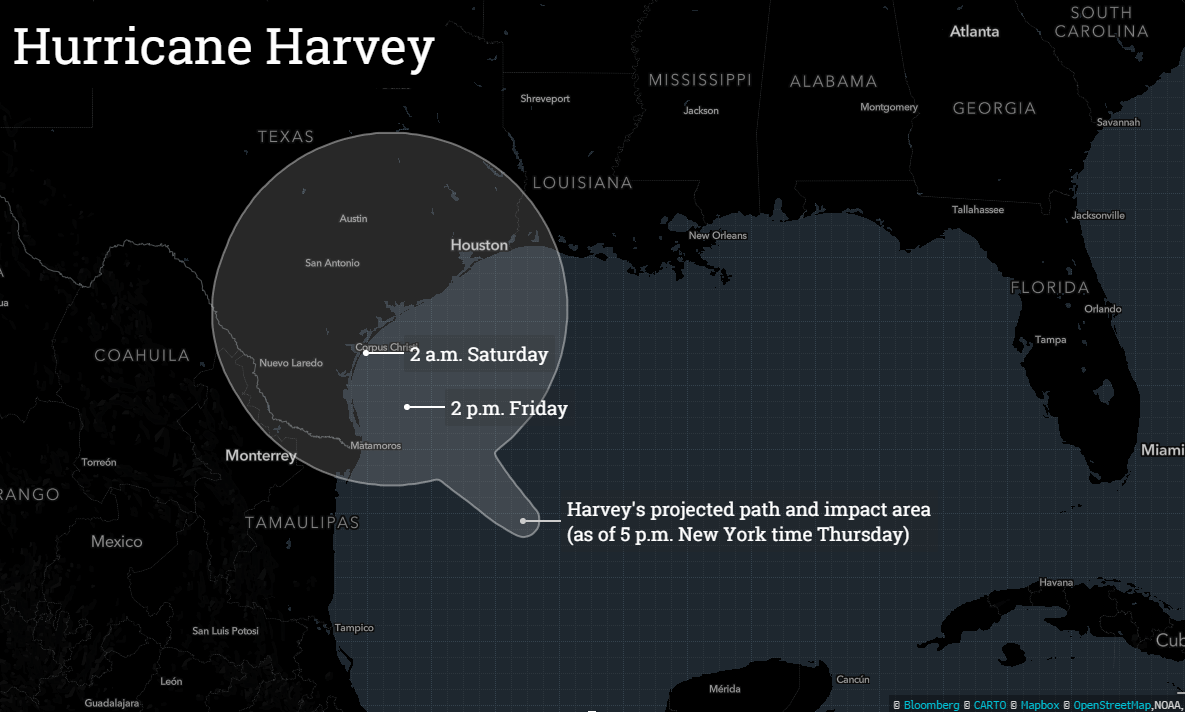 Harvey is poised to hit Texas's coast Friday. Governor Greg Abbott declared a state of disaster for 30 counties. The hurricane has already disrupted operations along the Gulf Coast, which accounts for nearly half the country's refining capacity.
Bloomberg Intelligence's refining index rose 2.1 percent -- led by HollyFrontier Corp.'s 4 percent jump and Valero Energy Corp.'s 3 percent gain. Meanwhile, crude futures declined as much as 2.8 percent in New York as the refinery shutdowns will likely lower demand for oil.
Gasoline futures for September delivery rose as much as 3.3 percent to $1.6719 a gallon. The gasoline crack spread climbed as much as 12 percent to $17.69 a barrel for New York-traded benchmarks.
Magellan Midstream Partners LP suspended operations at its Corpus Christi marine terminal and condensate splitter early Thursday. Citgo is also weighing shutting its refinery in the area.
Before it's here, it's on the Bloomberg Terminal.
LEARN MORE