Smartphone Maker HTC Explores Strategic Options
By , , and
HTC working with adviser, may seek to spin off Vive VR arm

Company talks with firms including Google as it weighs options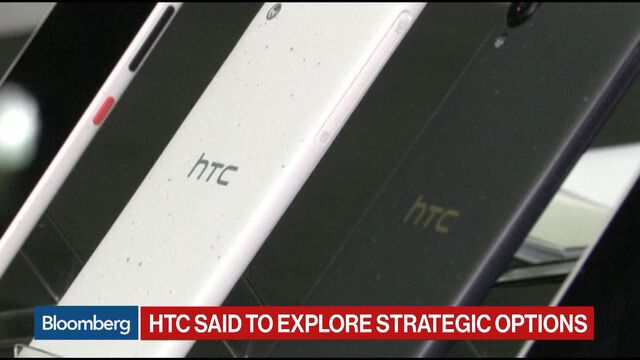 HTC Corp., the beleaguered manufacturer that once ranked among the world's top smartphone makers, is exploring options that could range from separating its virtual-reality business to a full sale of the company, according to people familiar with the matter.
The Taiwanese firm is working with an adviser as it considers bringing in a strategic investor, selling its Vive virtual reality headset business or spinning off the unit, the people said. HTC has held talks with companies including Alphabet Inc.'s Google, according to the people, who asked not to be identified because the information is private.
A full sale of HTC, which has businesses ranging from VR to handset manufacturing, is less likely because it isn't an obvious fit for a single acquirer, one of the people said. 
Shares of HTC rose 4.7 percent in Taipei on Friday to the highest close in more that two weeks, giving the company a $1.9 billion market value. The company has shed about 75 percent of its value over the past five years as its smartphone market share dipped below 2 percent.
No final decisions have been made, and HTC may choose not to proceed with any strategic changes, the people said. Representatives for HTC and Google declined to comment.

The Taoyuan City-based firm has been attempting to refocus its growth prospects on the high-end VR business, with shipments of the Vive headset totaling more than 190,000 units in the first quarter, according to research firm IDC.
HTC cut the price of the Vive by $200 earlier this week, in an effort to expand product sales and its user base, which is more important now than earnings, according to Sanford C. Bernstein & Co. analyst David Dai.
The company is also trying to revive its smartphone unit with its latest flagship U11 model and a contract manufacturing deal to assemble Google's Pixel handset.
"It's a cutthroat Android smartphone market out there," Ramon Llamas, IDC's research manager for wearables and mobile phones, said in an interview, referring to the mobile operating system developed by Google.
"Apple and Samsung have made it hard for HTC to stay at the top of the market, and Chinese phone makers have made it hard for HTC to dominate the middle and low end of the market," Llamas said.
A transaction with a Silicon Valley firm like Google would mark a face-saving moment for Cher Wang, HTC's co-founder and largest shareholder, who took over as chief executive officer of the the manufacturer in 2015. Wang has been unable to stem the losses in market share since returning to the company in a full-time capacity. The daughter of a petrochemical billionaire, Wang was Taiwan's richest woman until HTC's stock tanked.
Click here for Gadfly's take on HTC's search for a suitor.
HTC, founded in 1997, began as a contract manufacturer. In 2002, it won a deal with Microsoft Corp. to make Windows-based phones and quickly became one of the top producers globally. It also made the first Android phone in 2008.
Vive is a "different beast" from Facebook Inc.'s Oculus VR and Sony Interactive Entertainment LLC's PlayStation VR, Llamas said. "I am not seeing other companies really making that play, competing in that same area," he said.
— With assistance by Manuel Baigorri, Yuan Gao, and Mark Bergen
Before it's here, it's on the Bloomberg Terminal.
LEARN MORE