Qatar to Return Envoy to Iran as Gulf Arab Crisis Persists
By
Qatar ambassador recalled after 2016 attack on Saudi embassy

Iran has provided air routes, food supplies to isolated Qatar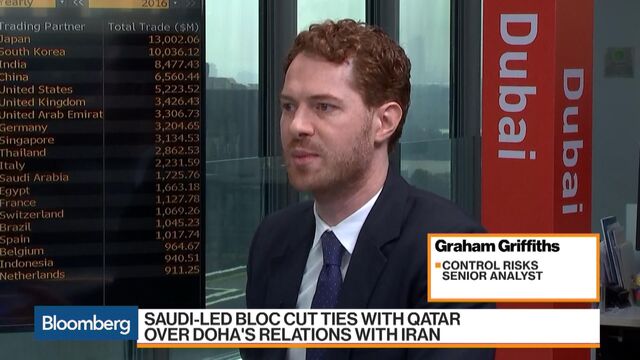 Qatar said it will return its ambassador to Iran and seek stronger relations with its Persian neighbor as the gas-rich nation's standoff with four Arab countries drags on.
Qatar pulled its envoy in solidarity with Saudi Arabia, which cut ties with the Islamic Republic following a 2016 assault on its diplomatic mission in Tehran. That spat was sparked by Saudi Arabia's execution of Saudi cleric Nimr al-Nimr, a critic of the kingdom's treatment of its Shiite minority.
A resumption of diplomatic relations between Qatar and Iran complicates the crisis between Gulf Arab countries. The Saudi-led severing of trade and diplomatic ties on June 5 over Qatar's alleged relations with Islamist extremists and coziness with Iran has forced the emirate to use air routes that cross Iran and import Iranian food and other goods.
The move is "a clear signal that Qatar will continue to pursue a foreign policy agenda that it views as in its sovereign interest, and it reinforces the message -- which officials have been saying throughout the crisis -- that Qatar is not willing to compromise on this point," said Allison Wood, a Middle East and North Africa analyst with the Control Risks strategy firm in Dubai.
Qatar, which denies it supports extremists, said in a statement that it plans to "strengthen bilateral relations with the Islamic Republic of Iran in all fields." The two countries already share the world's largest natural gas reservoir.
"We should not rate this move as a realignment of Qatar with Iran. The relationship with Iran will still revolve around business and commercial interests, not political interests," said Andreas Krieg, a lecturer in the department of defense studies at King's College in London and who advised the Qatari government in the past.
At the same time, Saudi Arabia won't welcome the development, and its media outlets "will try to exploit this story for their propaganda war," Krieg said.
Separately, Iranian Foreign Minister Mohammad Javad Zarif said Wednesday that visas have been issued for Saudi and Iranian delegations to visit their respective embassies in each other's countries for the first time since early 2016.
Before it's here, it's on the Bloomberg Terminal.
LEARN MORE