Trump to Rally Public on Taxes as Republicans Hash Out Details
By and
Trump said to launch tax campaign in Missouri next week

Broad July statement from 'Big Six' seen as starting point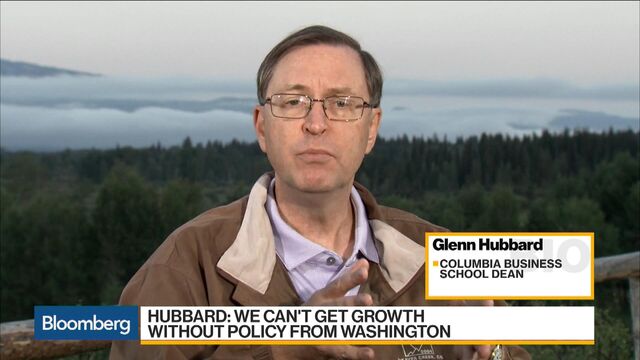 Follow @bpolitics for all the latest news, and sign up for our daily Balance of Power newsletter.
President Donald Trump will spend the next several weeks leading a public campaign in support of a tax overhaul while the White House leaves Republican lawmakers to hash out details of the plan, National Economic Council Director Gary Cohn said in an interview with the Financial Times.
Cohn, who said he had faced "enormous pressure" both to resign and to remain in his post after Trump's widely criticized response to a deadly white-supremacist rally in Charlottesville, Virginia, said he would stay on despite feelings of "distress."

"At the end of the day, tax legislation has to happen in Congress and the House," Cohn said in the interview, which was published Friday. "The Ways and Means Committee will be drafting legislation and we will be on the road and holding meetings in Washington and elsewhere explaining why it is so important to have tax reform in America."
Trump will kick off the campaign next week with a visit to Missouri, according to an administration official familiar with the plans. His trip Wednesday to the state's southwestern city of Springfield is expected to be the first of several stops around the country in the coming weeks, said the official, who asked not to be identified because the details were still under review.
Year's End
Cohn said he believes the legislation can be written and pass both houses of Congress by the end of the year.
"They have been holding hearings for years," he said. "It's not like they are just starting the process now."
Carried Interest Tax Break, Unloved But Hard to Kill: QuickTake
Trump is not expected to set forth his own plan or many specifics, the official said. Instead, Trump will advocate broad themes of middle-class tax cuts, simplifying the tax code and making businesses more competitive in a way that encourages job creation, the official said.
Republican congressional leaders weren't expecting to release a joint tax plan with the White House, according to two people familiar with the matter. Instead, they'll rely on House and Senate tax-writing committees to solve the big questions that remain unanswered, the people said.
Few Specifics
The so-called Big Six -- made up of White House officials and congressional leaders involved in tax negotiations -- jointly released a two-page statement in July that outlined a broad set of agreed-upon tax principles. Specifics, including such basic matters as where to set the corporate tax rate and how to set up individual tax brackets, have yet to emerge.
While White House officials previously said Trump would spend much of August promoting the tax plan, the administration instead became engulfed with controversy after the president said there were "very fine people" on both sides of clashes in Charlottesville involving neo-Nazi groups and counter-protesters.
Why America's Still Wrestling With Affirmative Action: QuickTake
Cohn, who is Jewish, said he has had blunt conversations with the president about the issue.
Charlottesville Fallout
"Citizens standing up for equality and freedom can never be equated with white supremacists, neo-Nazis, and the KKK," Cohn said. "I believe this administration can and must do better in consistently and unequivocally condemning these groups."
He also said: "As a Jewish American, I will not allow neo-Nazis ranting 'Jews will not replace us' to cause this Jew to leave his job. I feel deep empathy for all who have been targeted by these hate groups. We must all unite together against them."
Trump's trip to Missouri will come just ahead of the Labor Day weekend. That allows the president to drive his message to American workers returning from summer vacations and to congressional lawmakers returning to Washington for a final legislative push before they turn their attention to midterm elections.
In the last several days, Trump has been criticizing GOP leaders in Congress, calling out Senate Majority Leader Mitch McConnell and House Speaker Paul Ryan by name on Twitter Thursday and blaming them for not addressing the need to raise the debt ceiling sooner. On Friday, Trump tweeted about a range of topics, boasting about his administration's accomplishments and touching on the difficulty of passing anything in Congress.
"If Senate Republicans don't get rid of the Filibuster Rule and go to a 51% majority, few bills will be passed. 8 Dems control the Senate!" Trump tweeted.
Mixed Signals
Trump's administration has sent mixed signals about how many details to expect as Congress returns from its month-long recess next month. Treasury Secretary Steven Mnuchin told ABC in July that the objective was to have "a full-blown release of the plan" in the beginning of September. Then, a White House official said earlier this month that September would see the release of a new tax document that would provide at least some additional detail.
While White House press secretary Sarah Huckabee Sanders provided no new specifics on Thursday about Trump plans for tax legislation, she said "tax relief for middle-class Americans is a huge priority for this administration." She said to expect movement on tax reform "in very short order," and perhaps as soon as next week.
Congressional leaders now view the Big Six's broad July statement as having built the four walls of the house and believe it's the job of congressional tax writers to furnish it, according to one of the people, who asked not to be named because the discussions are private.
Health-Care Lesson
The change may run counter to what Trump's advisers and GOP lawmakers have called the importance of having a unified plan among the White House, the Senate and the House -- a lesson they learned from the failure of legislation aimed at repealing the 2010 Affordable Care Act, popularly known as Obamacare.
It's also a departure from former White House press secretary Sean Spicer's comments in March that the Trump administration would be "driving the train" on efforts to rewrite the tax code. Cohn had said previously that a tax framework would be released after Labor Day. More recently, he indicated the White House was pushing tax efforts back to the hill.
"Remember, tax legislation starts in the House," Cohn said at a press conference Aug. 15. "We've got a great, I would say, skeleton. We need the Ways and Means Committee to put some muscle and skin on the skeleton and drive tax reform forward."
Upcoming Hearings
Ways and Means Chairman Kevin Brady has said that he expects hearings and markups on tax legislation this fall. The Senate Finance Committee is planning to do the same, with Chairman Orrin Hatch promising his own hearings and markup.
After lawmakers return from their August recess, they must focus first on several must-pass bills to keep the federal government open and avert a default on U.S. debt -- making it unlikely that tax legislation would get serious attention until October.
House Speaker Ryan, during an appearance at a Boeing Co. plant in Washington, repeated his goal of passing a comprehensive tax bill by the end of the year.
Later, during an interview with CNBC, Ryan said Trump and congressional leaders are "eye to eye" in terms of agreeing on tax issues.
— With assistance by Toluse Olorunnipa
Before it's here, it's on the Bloomberg Terminal.
LEARN MORE