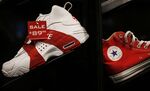 Some of the biggest names in the athletic-gear business are shooting an air ball.
Foot Locker Inc.'s saw a quarter of its market value erased in a single day last week when it reported dismal earnings results. Dick's Sporting Goods Inc. shares sank 23 percent last Tuesday when it announced disappointing earnings. Not long before that, Under Armour Inc. reported that sales in its once fast-growing footwear division had declined in the most recent quarter.

Their collective weakness stands out after so many years in which sporty styles have reigned supreme in the retail world. Teens and millennials have reliably shelled out for sneakers with three-figure price tags and the "athleisure" trend has had many of us dressing in gym-inspired gear for all sorts of occasions.
What's going on? Is the trouble at these companies a sign that these sartorial mega-trends are flaming out? Not necessarily. But the landscape of this business has changed, and brands and retailers need to adjust to new realities.
Richard Johnson, the CEO of Foot Locker, recently called attention to one of them on a conference call with investors last week:  
With constant access to new influences, trends, information, and ideas, consumers' attention spans are getting shorter, and we're seeing that they're moving from one style to the next faster than ever before. 
The sneaker world has come to rely on the weeks-long money gusher that results from hype around high-profile shoe launches from lines such as Nike Jordan. But that's becoming less of a sure thing: Neil Schwartz, an analyst at industry research firm SportsOneSource, points out that the buzz that might once have lasted six weeks around a marquee sneaker debut has been compressed to a shorter time period.
This acceleration puts a great deal more pressure on the athletic brands to adopt a more rapid-fire pace of innovation and newness.
We've seen how that dynamic has caused havoc in other areas of retail: Mall stalwarts like Gap Inc. were knocked sideways by the rise of fast-fashion chains. Neiman Marcus Group Ltd. LLC has talked about how difficult it has become to sell luxury goods when customers have seen them all over Instagram during runway shows -- meaning the goods don't even seem new by the time they hit stores months later.
With the sneaker business now facing its own version of this same threat, brands and retailers should focus on building more nimble, reactive supply chains, and continue pouring money into technical advancements such as "smart" shoes that could become shopper must-haves in the future. It also wouldn't hurt to rethink marketing strategies knowing that each shoe might have a shorter shelf life. 
As worrisome as this customer shift may be, it isn't hitting all areas of the athletic footwear business to the same degree and the good news is, the category is still growing: Sales rose 3 percent year-over-year increase in sales in 2016, according to market research firm NPD Group. While that's slower than in years past, it still looks much stronger than the rest of the footwear business, where sales, particularly of fashion-focused styles, are sinking.
Dick's, in fact, called out shoes as a strong-selling department in the latest quarter and said premium-priced sneakers were a key driver of sales. At Foot Locker, meanwhile, it was a mixed bag. While sales of lifestyle running shoes were solid, overall results were dragged down by plummeting sales of luxe basketball styles.

This patchiness is consistent with a pattern that has taken hold in the industry lately. Classic sneakers have seen strong sales growth as shoppers gravitate toward retro styles, with NPD Group reporting that sales of this type of footwear were up 26 percent in 2016 compared to the previous year. But performance-oriented shoes -- the ones designed for serious athletic pursuits -- are struggling. Sales of performance running shoes were essentially flat during that same period, and sales of performance basketball shoes were down significantly.
In other words, the sneaker business isn't as scorching as it once was, but there is still plenty of demand if you look in the right places. And by becoming more nimble, industry players will be able to play better defense against troublesome trends.
Before it's here, it's on the Bloomberg Terminal.
LEARN MORE