Colombian Television Networks Pulled Off Air in Venezuela
By and
Move follows previous decisions to block CNN Espanol, NTN24

Reports on ousted prosecutor may be the trigger, Caracol says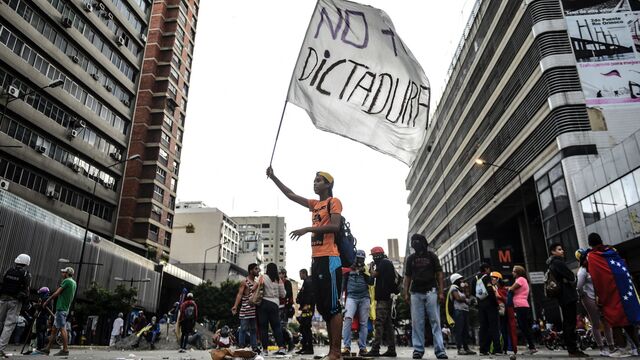 Venezuela tightened control over the news media overnight by blocking the transmission of Colombian networks Caracol and RCN.
As of Thursday morning, the television channels were blank on major cable TV providers in Caracas. Noticias Caracol director Juan Roberto Vargas said coverage in recent years of President Nicolas Maduro's border closing and the escape last week of Venezuela's ousted public prosecutor Luisa Ortega Diaz to Colombia may be behind the decision.
Vargas, in an interview on RCN Radio, said that Venezuelan authorities seemed to think Caracol knew about Ortega before she fled, which he called "absurd."
Speaking to reporters Thursday, Colombian President Juan Manuel Santos said the networks' banning represented yet another blow to Venezuela's ailing democracy.
"It's another demonstration of a regime that does not like freedoms," he said. "It's acting more like a dictatorship."
Venezuela's telecom regulator, Conatel, has yet to make a statement about the decision, and attempts to contact the press office failed. Canal RCN said it wouldn't comment until formally notified, according to RCN Radio.
Under Maduro and former President Hugo Chavez, opposition and private media outlets have withered under pressure to change their editorial lines. In 2007, Chavez decided not to renew the broadcasting license for RCTV, then the most-watched network critical of his government. Since then, the biggest opposition network, Globovision, was sold and has softened its criticism while similar fates have befallen newspapers including El Universal.
In February, Venezuela suspended the transmission of CNN en Espanol after the government accused the channel of trying to stoke unrest in the South American nation. CNN rebutted the allegation. In 2014, when protests against the Maduro government took off across the country, authorities pulled the plug on Colombia's NTN24 after it aired footage of protests, claiming the channel was destabilizing the country. Argentina's Todo Noticias was also blocked by Venezuela cable providers this year.
— With assistance by Oscar Medina, Noris Soto, and Andrew Rosati
Before it's here, it's on the Bloomberg Terminal.
LEARN MORE