China's Wealthiest Gain the Most This Year in Global Asset Rally
By and
Chinese billionaires increase net worth 46.8% so far in 2017

Eight of the biggest fortunes more than double since yearend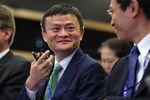 Start your day with what's moving markets in Asia. Sign up here to receive our newsletter.
The equity rally propelling global asset values higher this year is once again turning China into the world's fastest-growing wealth machine.
The fortunes of the 40 Chinese billionaires on the Bloomberg Billionaires Index have surged 46.8 percent since yearend, dominating the wealth gains of all nationalities and sending their combined net worth to $417 billion.

Wang Wei, the 46-year-old founder of parcel delivery business S.F. Holding Co., saw his fortune rise the fastest of all 500 billionaires on the index with a 347.5 percent jump that's made him the world's 39th-richest person with $20.9 billion as of Thursday. Measured in U.S. dollars, property magnate Hui Ka Yan, 59, has gained the most, adding $21.6 billion. He's now the 28th richest in the world with $29 billion.
Jack Ma, 52, founder of Alibaba Group Holding Ltd. and the country's wealthiest person with $46.8 billion, rose $13.5 billion, a 41 percent jump. Ma Huateng, the 45-year-old founder and chairman of instant messaging service Tencent Holdings Ltd. became the country's second-richest person after his fortune jumped $12.7 billion. He's ranked No. 21 on the index with $33.5 billion.

Global wealth has risen steadily since Donald Trump won a surprise victory in November with a "Make America Great Again" theme that promised to bring a billionaire businessman's approach to tackling government challenges. This year, the combined net worth of the world's 500 richest people has swelled by $655.6 billion, or 14.9 percent, to $5.05 trillion.
China is ranked second after the U.S. in total wealth tallied by the index. The 163 American billionaires control $1.93 trillion and have increased their net worth by 8.6 percent in 2017.

— With assistance by Pei Yi Mak
Before it's here, it's on the Bloomberg Terminal.
LEARN MORE