Business
China's Grocery Trolls Make Giant Piggy Banks of Wal-Mart and Carrefour
A sprawling new Food Safety Law has spawned a cottage industry of professional complainers who sue food manufacturers and retailers over infractions big and small.
Bloomberg News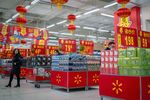 -Xue Yanfeng went shopping in a Carrefour SA supermarket in western China in May 2015 and bought 20 bottles of honey for a total of 892 yuan ($134). He then left the supermarket with his groceries and sued the French company. In court filings, Xue alleged the nutritional labels said each 100-gram serving contained 1,326 kilojoules of energy. But, according to his calculations using nutritional data on the label, each serving contained only 1,102.
Xue, who couldn't be reached for comment, argued that the error violated China's Food Safety Law, which guaranteed him compensation of 10 times the purchase price. The Xinjiang court agreed, and a week after his purchases it awarded him a refund of 892 yuan and compensation of 8,920 yuan.
That was one of 40 lawsuits Xue has filed against supermarkets and retailers for violating the Food Safety Law since late 2015, when China introduced a strengthened version to tackle the country's well-publicized food safety woes. The new version removed a clause in the previous law that said victims must prove personal injury or loss to be eligible for compensation. The change has spawned a cottage industry of professional complainers who've developed sophisticated operations to challenge food manufacturers and retailers for compensation.
Xue alone has filed cases involving finding raisins with no nutritional labels, potato chips with unlawful additives, biscuits with multiple production dates, and ham and beer being sold after their expiration dates. His targets include Carrefour, Wal-Mart Stores, and Yonghui Superstores. He's been awarded 70,033 yuan—twice the average urban household annual income in China—in compensation over the past 18 months, and he settled 18 other cases in which the compensation wasn't disclosed.
Last year local governments in Guangdong and Jiangxi provinces said as many as 90 percent of all food safety complaints they've received are from such plaintiffs. A Beijing court said 80 percent of the food safety-related cases in 2015 were filed by individuals who specialize in finding flaws. "They are the No. 1 problem supermarkets in China are facing now," says Chu Dong, vice chairman of the China Chainstore & Franchise Association, an industry group. "They are harming not just the retail industry but placing a heavy burden on regulatory and judicial authorities in China and betraying the spirit of the law."
Professional complainers are a mainstay on the mainland because the nation's laws guarantee aggrieved buyers a unique degree of protection and compensation. A different statute granting compensation of three times the purchase price to those who buy counterfeit or damaged goods has given rise to professional "fraudbusters" who scour store shelves on the lookout for fakes. Their ranks swelled tenfold after the more generous food safety law came into effect, says Shandong native Wang Hai, who prefers to be called a "food safety informer." Pending cases he's filed include complaints about fake alcohol and beef from steroid-injected cattle smuggled from overseas.
"What we do is help to plug a hole in the regulatory framework, because it's impossible for regulators to catch every manufacturer and retailer infringing the law," says Wang. "There's nothing wrong with us trying to get as much compensation as we can, because there must be a heavy financial penalty before wrongdoers feel the pain. Plus we are volunteers, and we also need money to survive."
Wal-Mart, one of the leading Western supermarket chains in China, received almost 4,000 food safety complaints last year, compared with about 700 the year before the revised law took effect, according to a person familiar with the matter who asked not to be identified because the information hasn't been disclosed publicly. Spokesmen for Wal-Mart, Carrefour, and Sun Art Retail Group declined to comment. Yonghui didn't respond to requests for comment.
Every complaint triggers an inspection by local food and drug authorities. About 10 percent end in lawsuits, mostly filed by consumers after a retailer refuses to pay compensation, says the CCFA's Chu. There were 13,740 cases in the past 18 months involving compensation requests for food safety violations, China's court filings database showed. Legal actions ballooned after China's Supreme People's Court in 2014 issued guidance that people can sue even when they knowingly purchase unsafe food, says David Ettinger, a Shanghai-based partner at law firm Keller and Heckman. That meant Wang and Xue didn't have to justify their bulk purchases of noncompliant items before filing complaints, nor respond to retailers' accusations they were suing for profit.
Since court filing fees usually run no more than 100 yuan, repeat complainers rarely hire attorneys. Instead, Chu says, professional complainers work in organized groups, sharing legal and technical expertise. If a noncompliant product is found in one supermarket, the group may fan out to locate it in other cities to widen the net of compensation, he says.
More than two-thirds of the court cases involve labeling mistakes like the one Xue brought against Carrefour, says Lu Lei, a Renmin University of China food safety management researcher. Those errors can include font size being too small or the lack of Chinese translation. "The vast majority of cases do not actually involve the safety of food but use technical areas of the law to win compensation," he says. "In that sense, they do not perform a public duty—unlike fraudbusters."
Professional complainer Wang, however, says it's unfair to dismiss labeling cases as frivolous. "If a company cannot even manage the simple aspect of labeling to follow local laws, how can we trust it to produce safe food?" he asks.
Combating China's safety fears is expensive for businesses: Since the new Food Safety Law took effect, more than $800 million has been spent hiring additional food safety personnel and bolstering monitoring facilities, according to the Paulson Institute, a Washington-based think tank. And after a video emerged this year purporting to show seaweed made of plastic, the wholesale price of seaweed fell by half—even after the China Food and Drug Administration dismissed "plastic seaweed" as a rumor.
The focus on food safety means the law is unlikely to be amended to restrain professional complainers, Chu says. That hasn't stopped some merchants from taking matters into their own hands. In March local media reported that a customer in Anhui province who bought expired Spam in bulk from a supermarket was beaten by staff after he sought 9,000 yuan in compensation. When he went to local police for help, the chief and another officer also reportedly kicked and punched him.
— With assistance by Rachel Chang, and Mengchen Lu
BOTTOM LINE -
Companies in China have spent more than $800 million to comply with China's food safety law. The prospect of suits by professional food vigilantes is one reason why.
Before it's here, it's on the Bloomberg Terminal.
LEARN MORE