Armed Groups in Mali Agree to Truce as Peace Talks Start
By and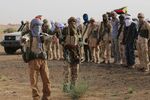 Two armed groups in Mali agreed to a 15-day cease-fire and committed to peace talks after repeated clashes near the northern city of Kidal.
The Coordination of Azawad Movements, a coalition of Tuareg separatists, and the pro-government militia known as the Platform, signed the truce on Wednesday in the capital, Bamako. Despite a peace deal signed in Algiers in 2015, fighting between the organizations has resulted in scores of deaths in the north. Kidal is a stronghold of ethnic Tuareg clans.
The governor of Kidal returned to the city on Wednesday, exercising state authority over the region for the first time since 2014, government spokesman Abdel Karim Konate said by phone. The return of the government to Mali's five northern regions was part of the resolutions of the 2015 peace accord.
Under Wednesday's deal, the groups agreed to set a new timetable for the implementation of the peace accord.
Mali has been gripped by violence since ethnic Tuareg rebels in the north began a separatist insurgency in 2012 and joined forces with Islamist militants. United Nations peacekeepers and Malian troops are targeted almost weekly by bombings and hit-and-run attacks in the north and increasingly in the center of the country.
Before it's here, it's on the Bloomberg Terminal.
LEARN MORE