Your Evening Briefing
Here are today's top stories
Bloomberg News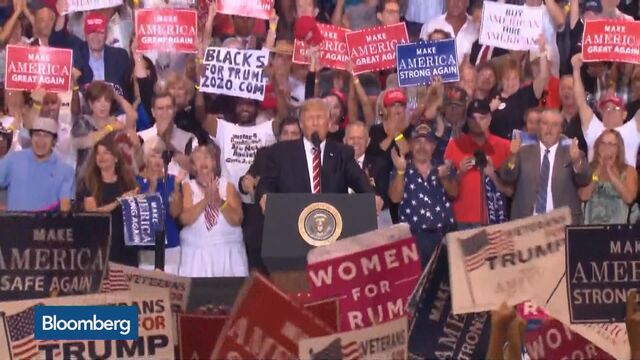 Want to receive this post in your inbox every afternoon? Sign up here.
We're talking about debt ceilings and government shutdowns all over again. During an impassioned speech in Phoenix, Arizona, on Tuesday night, President Trump raised the specter of a shutdown as a way to secure funding for his proposed Mexican border wall. But the spending bill isn't the only thing up for negotiation. Lawmakers on Capitol Hill are concerned the president's threats could make it harder for Congress to also raise the debt ceiling.—Katie Robertson
Trump shutdown threat complicates Congress's debt ceiling plans. Congress needs to pass a spending measure by September 30 to keep the government open —the same time it's facing a deadline to raise the nation's debt limit. Trump has made it clear for months he wasn't happy with the last bipartisan spending deal in May because it didn't fund a new wall on the southern border, his signature campaign promise. Now, the president has suggested he would veto any spending bill without the funding.
Big U.S. banks could see a 20% profit jump with deregulation. Changes to post-crisis banking rules proposed by the Trump administration could add $27 billion of gross profit at the six largest banks. The proposed change that is likely to have the biggest impact on profit is one that would allow banks to buy U.S. government bonds entirely with borrowed money.
Trump's olive branch to North Korea opens a murky path to talks. It's been 26 days since North Korea launched a missile. The question now is whether this gap—and Secretary of State Rex Tillerson's praise of the nation's "restraint"—opens the path for negotiations with Washington. The two countries could be making initial contact through a secret channel in New York.
Billionaires back a startup that grows "clean meat." Richard Branson and Bill Gates have joined other business giants to invest in a nascent technology that makes meat from self-producing animal cells, an answer to rising consumer demand for protein that's less reliant on feed, land and water. The startup, Memphis Meats, has raised $17 million from investors.
Hollywood fails its latest diversity test with the fall TV lineup. The major broadcast networks have made little progress this year in hiring more women and minorities, according to data compiled by Bloomberg. Women continue to make up about a fifth of executive producers on new shows, while minorities have advanced by less than two percentage points since the 2016-2017 TV season.
How does your 401(k) compare? For years, fees on investments in workplace retirement savings plans have been falling. Now, at least for the moment, they're stalling. A new survey tracking the trends shows there's lots of room for improvement in plan investment options.
Americans are eating more brains. Innards are trending. Brain dishes are brightly popping up in many places—and when they do, chefs report they are received with feverish enthusiasm. Chef Chris Cosentino, the author of a cookbook devoted to offal, says eating brains has become so normal, "it's stopped being cool." Also in vogue are tripe, headcheese, and scrapple.

Before it's here, it's on the Bloomberg Terminal.
LEARN MORE