WPP's Cocktail of Woes Leaves Ad Men With Few Answers
By and
CEO cites economic, political threats for industry slowdown

Shares plunge followed by ad rivals IPG, Omnicom and Publicis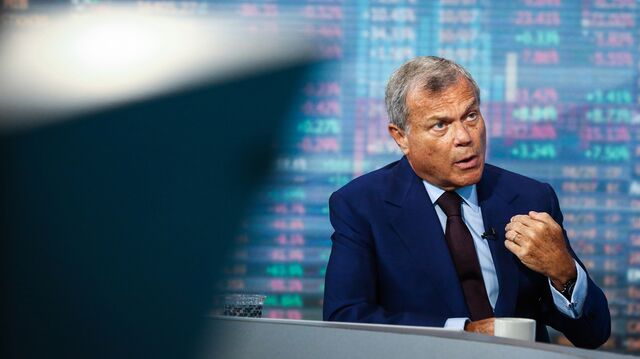 WPP Plc's Martin Sorrell showed investors a long list of problems holding back the advertising industry after slashing his revenue-growth forecast. He didn't offer much in the way of solutions.
With shares of the world's largest advertising company having their worst day since 2000, the chief executive officer walked investors through a marathon 2-1/2 hour session discussing WPP's latest financial results, including a slide listing 22 outside factors sapping the industry worldwide.
The challenges included everything from slowing global growth and technological disruption from the likes of Amazon.com Inc. to uncertainty caused by looming elections in Europe and the Communist Party Congress in China. What was less clear was what WPP could do about it. That explains why analysts don't see relief for the stock or its peers any time soon.
"I found it an unconvincing meeting," said Alex DeGroote, a media analyst at Cenkos Securities. "I don't think that's the last downgrade -- there's more to come."

WPP had its biggest intraday slump since the bursting of the dotcom bubble after saying it now expects sales growth of zero to 1 percent this year, down from an earlier 2 percent projection. The reduction dragged down rivals Interpublic Group of Cos., Omnicom Group Inc. and Publicis Groupe SA.
WPP has now lost 22 percent in 2017, while Paris-based Publicis is off 9 percent. Interpublic was down 15 percent year to date in New York and Omnicom was off 13 percent. Each of the four biggest ad companies is addressing problems in North America, where big consumer-goods companies are re-evaluating their advertising strategies.
If Sorrell doesn't fix the stock drop he may face more pressure from investors to move on, according to one former fund manager.
"The results today represent an inflection point for WPP," said Guy Jubb, the former Standard Life fund manager who first raised the issue of succession planning at the advertising giant. "They put the board on the back foot."
Click here for Gadfly's take on problems in the advertising industry
The results feed into concerns that advertising agencies are losing out as an industry to consultants and digital platforms, said Jonathan Helliwell, an analyst with Panmure Gordon in London. Internet giants like Google provide many of the services needed for online marketing, putting pressure on traditional advertising companies to react to the change.
Consultants like KPMG and McKinsey & Co. are also creating even more competition by offering similar services as ad agencies, Bloomberg Intelligence analyst Paul Sweeney said.
"That's been a competitive threat on the margins," Sweeney said.
Sorrell, in his list of market trends, cited the online dominance of Google and Facebook as factors affecting ad companies. He discussed the emergence of Amazon as a force in everything from e-commerce to brick-and-mortar retail, which could impact large WPP customers such as consumer-good giants Unilever and Procter & Gamble Co.
In response, WPP has doubled down on its drive for "horizontality," an attempt to integrate its many services and divisions so clients can access the best of what it offers in one place. Sorrell also said in a Bloomberg Television interview that the company would increase its efforts in emerging markets, give clients more control of data and grow the share of its revenue that's generated by digital advertising.
"We have to weather the storm," Sorrell said on a conference call. "It's a very tough business environment for us."

Sorrell put particular emphasis on the pressure from activist investors and their pursuit of so-called zero-based budgeting, pushing companies to review their levels of ad spending in a drive to cut costs.
Activists have stepped up pressure on major consumer-products companies amid the challenges presented by younger brands, sustainable products and more-demanding retailers. Nelson Peltz's Trian Fund Management is pushing P&G, the maker of Pampers, Head & Shoulders shampoo and Febreze to cut costs and reduce bureaucracy. At Nestle SA, which sells Kit-Kat chocolate bars and Nespresso, Dan Loeb is making the case for an overhaul including asset sales.
Corvex Management has built a $400 million stake in French yogurt maker Danone, while Unilever, which owns Dove and Ben & Jerry's, is producing 30 percent fewer ads after an unwanted takeover attempt and running them for longer to help save money.
At WPP, Sorrell also listed several macroeconomic and political threats that DeGroote said weren't "overly relevant" to the company's financial performance. The CEO discussed delays to Donald Trump's tax reforms in the U.S., the near-term prospect of higher interest rates, and political concerns over North Korea, Afghanistan, the Middle East, Venezuela and Ukraine.
"The bottom line is this is the worst growth rate since the financial crisis, and nobody could argue that the current times are as bad as the financial crisis," said Cenkos analyst DeGroote. "I can see the shares going weaker still over the days to come."
Brian Wieser, an analyst at Pivotal Research Group, said ad agencies have struggled since a K2 Intelligence report last year revealed a lack of transparency in the industry. He said there's "more scrutiny than ever" being applied to contracts with advertising agencies.
"I don't think it's a coincidence," Wieser said. "What the K2 report did was highlight places where many marketers were not paying attention."
— With assistance by Alexandre Boksenbaum-Granier, Jonathan Roeder, Jennifer Kaplan, Craig Giammona, Luca Morreale, Thomas Buckley, and David Hellier
Before it's here, it's on the Bloomberg Terminal.
LEARN MORE