Politics Matters Less and Less, Danish Pension Fund Giant Says
By
PFA CEO says markets less influenced by politics than before

Reasoning also applies to scaled-down expectations about Trump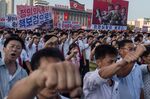 Denmark's largest private pension fund isn't that interested in politics anymore.
Allan Polack, chief executive officer of PFA, argues that lawmakers and political leaders are out of touch and that globalization has made their decisions less relevant to the business community.
"Politics and economics have decoupled a lot in recent years," Polack said in a telephone interview in Copenhagen. "Politicians populate an insulated world of their own, while companies live in another sphere."
In an era where a resurgence of populism and nationalism sends out alarm bells on a regular basis, the CEO's analysis counters the traditional argument that markets are scrutinizing decision makers and constantly adjusting their positions accordingly.
"If you're afraid of politics in one place you can just move production elsewhere," Polack said of the benefits of globalization. "As long as politics doesn't get out of hand and turn into military action, it will stay in its own sphere and not influence companies much."
The decoupling helps explain the markets' relatively short-lived responses to recent geopolitical crises, such as U.S. President Donald Trump's "fire and fury" warning to North Korea over its nuclear program.
Sabre Rattling
"Sabre rattling" may "shake markets, but rarely has a lasting impact. Markets are playing it cool here," Polack said.
It also suggests investors are scaling back their expectations surrounding the Trump presidency, for good or for bad.
"What has happened in the White House is less extreme than what some might have feared in November. And that's a good thing because markets like stability and the situation has developed more steadily than the extreme situation some were afraid of," he said.

PFA is far more interested in whether central banks may be tightening monetary policy or not. "And lately we've seen signs they may not be in a hurry," Polack said.
The fund, which held assets worth 622 billion kroner ($98.5 billion) at the end of June, lost 0.3 percent on bonds -- which account for the biggest share of their portfolio -- in the first six months of the year amid mixed signals from central banks about their tightening strategy, he said. Overall, PFA's return on investment was down to 9.5 billion kroner, from 21.5 billion kroner a year ago, as its equity holdings gained 5.4 percent on higher corporate earnings and an improved global economy.
While politics may have a relatively limited impact on trading, the short-term market jitters that it sometimes produces are good for business.
"We pay a lot of attention to volatility. We continuously monitor volatility and the price of volatility," Polack said.
Before it's here, it's on the Bloomberg Terminal.
LEARN MORE