Menendez Corruption Trial Jury Includes Mail Carrier, Librarian
By
Panel of six men, six women chosen for trial set for Sept. 6

New Jersey senator accused of bribery, making false statements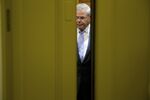 Six men and six women from a wide range of professions were chosen as jurors for the corruption trial of New Jersey's Democratic Senator Robert Menendez and a donor accused of bribing him for help with various government disputes. 
The panel includes: a Moody's Corp. employee who helps rate debt on foreign countries; an operations director at an insurance company; a community health worker; a mail carrier; a utility worker; a children's librarian; a business specialist for wireless accounts at AT&T Inc. and a unit service representative at a New Jersey hospital.  
Lawyers for Menendez and Salomon Melgen, a Florida eye doctor, joined prosecutors and U.S. District Judge William Walls in questioning potential panelists on Tuesday and Wednesday in federal court in Newark, New Jersey. Opening statements are scheduled for Sept. 6.
The four alternates include a finance director at a pharmaceutical company, a homemaker and a retired Department of Homeland Security technician.
Walls repeatedly urged jurors to avoid news accounts about the case and disable Internet and mobile phone notifications that may bring updates on the proceedings.
"This is real stuff," Walls said. "If you're not going to treat it seriously, we don't want you."
Prosecutors say Melgen gave hundreds of thousands of dollars in campaign contributions to support Menendez, and lavished him with trips on private jets and a three-night stay at a Paris hotel valued at $4,934. They allege Menendez received a "stream of benefits" and acted on behalf of Melgen "as opportunities arose," including in a Medicare overbilling dispute, a contract standoff with the Dominican Republic, and visa applications for three of the doctor's girlfriends.
New Jersey residents filled out written questionnaires in June that asked dozens of questions, including whether they knew potential witnesses. On Wednesday, the judge read off a list of 19 other potential witnesses, which included Melgen's wife, Flor.
Menendez and Melgen are charged with conspiracy, bribery, honest-services fraud and violating the Travel Act, which prohibits foreign travel for the purpose of committing crimes. Menendez is also accused of making false statements by failing to disclose Melgen's gifts on ethics forms.
The case is U.S. v. Menendez, 15-cr-00155, U.S. District Court, District of New Jersey (Newark).
Before it's here, it's on the Bloomberg Terminal.
LEARN MORE