Hong Kong's Luck With Typhoons Runs Out as Hato Rattles City
By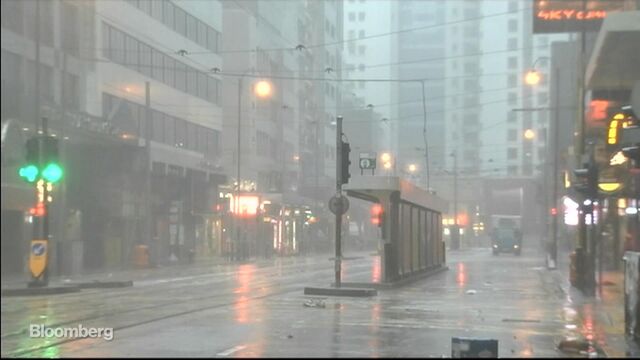 Hong Kong has so rarely been directly affected by typhoons in recent years that there's a joke about a Li Ka-shing forcefield -- said to prevent tropical cyclones from hitting the city during trading hours and disrupting the billionaire's business operations. 
That fortune appeared to change Wednesday, when the city's observatory hoisted storm signal No. 10 -- the highest on its scale -- for only the fourth time since the early 1980s. The windswept streets were largely empty and office workers stayed home, preferring the sanctuary of their sofas to wrestling with broken umbrellas on a potentially dangerous commute. Trading was canceled on the Hong Kong stock exchange.
The city's inhabitants are used to having the occasional, blustery day off when the No. 8 signal is raised. That level, which means sustained, gale-force winds of 63-117 kilometers per hour, prompts the closure of many offices, schools and much of the city's public road transport. It also often leads to complaints about lost profits for businesses.
No. 10 is a bigger, rarer deal. The highest signal means Hong Kong will be affected by hurricane-force winds of 118 km/h or more -- or effectively a direct hit by a typhoon (the name stems from the Chinese words for big wind.) According to the Hong Kong Observatory, there's only been a dozen or so typhoons to directly hit the territory since the mid-1940s, or one out of every 72 that affected the region.
While Hong Kong is a long way from the days when such storms killed hundreds, the city's resistance to winds of this strength is being tested to a degree rarely seen in recent decades.
Before it's here, it's on the Bloomberg Terminal.
LEARN MORE