Draghi Urges Open-Minded Central Banking as Economy Changes
By
ECB president criticizes adherence to broken paradigms

Officials set to debate stimulus path as inflation stays low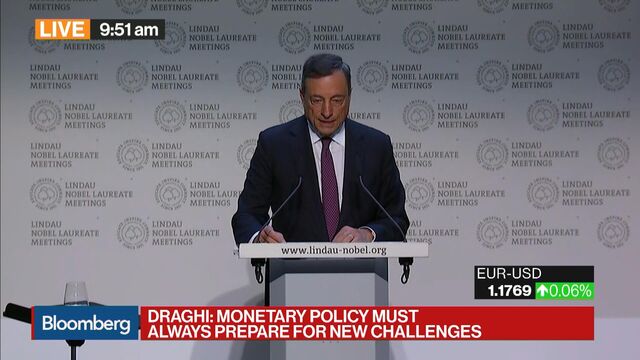 Mario Draghi said central banks must be open-minded on policy innovations as they prepare for future economic developments -- even if that concept is not clear to everyone.
In a speech that avoided any specific signals on the European Central Bank's current deliberations, the institution's president said officials must be "unencumbered by the defense of previously held paradigms that have lost any explanatory power." He spoke to an audience of 17 Nobel laureates and 350 young economists in Germany, a nation which has been one of the stiffest critics of ECB policies such as quantitative easing.
"When the world changes as it did ten years ago, policies, especially monetary policy, need to be adjusted," he said in a prepared text. He then added in an unscripted remark that "that's obvious for most people, but not for everybody."
The speech in the southern town of Lindau came as ECB policy makers gear up to discuss the future of their stimulus program at their Sept. 7 meeting. The central bank is entering a crucial phase of its battle to restore euro-area price stability as inflation fails to keep pace with the economic upturn.
For a timeline on the ECB's possible exit for QE, click here
A purchasing managers survey published Wednesday showed euro-area manufacturers continuing to feed economic growth and create jobs. Yet consumer-price growth was just 1.3 percent in July -- enough to argue that deflation risks have disappeared but too little to meet the ECB's goal of just under 2 percent.
Draghi said global policy actions have "made the world more resilient," but officials "should continue preparing for new challenges."
Autumn Decisions
One of those challenges is judging how much euro-area monetary support is still needed for the recovery to become durable, and how markets will react when it is gradually withdrawn.
A particular concern among officials, expressed at their last policy meeting in July, is the risk that a stronger euro will undermine the recovery. The single currency has risen more than 5 percent on a trade-weighted basis this year and 12 percent against the dollar. It gained as much as 0.3 percent after Draghi's speech, which didn't mention the exchange rate, and was 0.4 percent higher at $1.1813 at 4:13 p.m. Frankfurt time.
Investors will likely now watch for clues on Friday, when the ECB chief is due to speak at the Federal Reserve's symposium in Jackson Hole, Wyoming. He'll join his U.S. counterpart Janet Yellen, among others, in discussing how to foster dynamic growth.
In a sign that German officials remain skeptical of the need for bond purchases, Bundesbank President Jens Weidmann said in a Boersen-Zeitung interview published Wednesday that he didn't see an "acute" need to extend QE into 2018. He also warned against changing the parameters of the program.
Draghi stressed in Lindau that monetary policy relies heavily on academic input, saying that "a policy response that has its foundation in rigorous research is less prone to being impaired by political compromise and easier to explain to the general public."
No Prejudice
He also said studies show innovations such as forward guidance and the ECB's 2.3 trillion euro ($2.7 trillion) bond-buying program, as well as the equivalent program undertaken by the U.S. Federal Reserve, have been successful in supporting the economy and inflation. That view wasn't wholly endorsed by Nobel Laureate Christopher Sims.
"My view is that the unconventional actions that the Federal Reserve took in the early stages of the crisis were extremely effective as a major lender of last resort," he said in a Bloomberg TV interview with Francine Lacqua. "The subsequent quantitative easing I don't think was harmful, I think it may have been somewhat helpful, but I don't think it's been a major powerful instrument of monetary policy."
After leaving the podium, Draghi took one last swing at his critics.
"You need serious conceptual analysis and base policy on that, not on prejudice, or -- even worse -- on moral grounds," he told reporters after his speech. "Some people say 'Oh, QE is immoral, because it creates money out of nothing."'
— With assistance by Piotr Skolimowski, and Catherine Bosley
Before it's here, it's on the Bloomberg Terminal.
LEARN MORE