Deutsche Bank Is Said to Halve MiFID Credit Research Price
By , , and
German lender plans to charge $35,000 a year for 10 users

Fee has been cut as pricing war between banks intensifies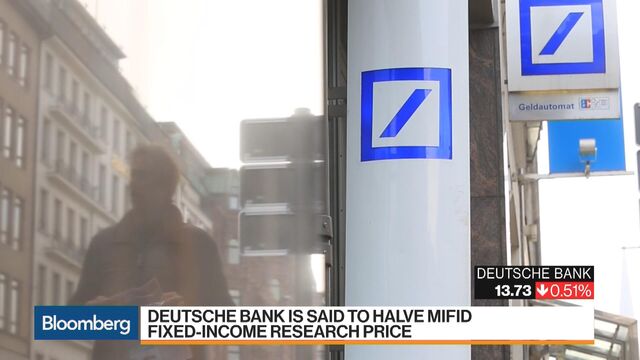 Deutsche Bank AG has halved the price of its fixed-income and macro research as competition mounts in the run-up to Europe's MiFID II regulations, three people with knowledge of its plans said.
The German lender proposes to charge asset managers 30,000 euros ($35,000) a year for up to 10 users, said the people, who asked not to be identified because the information is private. This was cut from the 60,000 euros it had initially planned after other banks revised their prices lower, according to a memo sent to clients. A spokesman for Deutsche Bank declined to comment.
The revised Markets in Financial Instruments Directive will force firms to charge for research separately from other services such as trading. With less than five months to go before the Jan. 3 start date, investment banks are locked in negotiations with their money-manager clients over how best to comply with the rules.
Deutsche Bank's 30,000-euro package includes web access to written research and contact with analysts, the people said. Deliberations are ongoing and the bank hasn't made a final decision on the pricing.
The Frankfurt-based lender's prices are linked to the number of users. Web-only access for up to five people is quoted at 15,000 euros per year, while a package including web access and contact with analysts is 50,000 euros for up to 25 users, one of the people with knowledge of the matter said.
Tracking Users
Deutsche Bank has long had a monitoring system tracking how many people from a client firm are logging into its research portal and how much they're reading, Bloomberg News reported in April. One official at a medium-sized London-based investor said at the time they were quoted 60,000 euros for a year's entry-level fixed-income services from the German lender, but was told this price wasn't set in stone.
Research prices quoted by banks have varied widely, depending on the services offered. Bank of America Corp. plans to charge asset managers as much as $100,000 per firm for an "ultra-high service," according to a pricing document seen by Bloomberg News.
Earlier this year, Nomura Holdings Inc. proposed clients pay as much as 120,000 euros for a premium service including access to all its analyst reports on global economics, fixed income, credit and foreign exchange. Clients will pay at least that amount for Credit Agricole SA's top-end package.
Among other German lenders, Landesbank Baden-Wuerttemberg is offering macro, exchange, stock and commodity research for 20,000 euros to 25,000 euros, a person familiar with the matter said. For a package of macro, credit and single-value research, LBBW is asking 30,000 euros, according to another person.
Norddeutsche Landesbank is asking as much as 20,000 euros per year for research services, with prices staggered according to the client's managed assets, bank documents obtained by Bloomberg News show.
— With assistance by Donal Griffin, Nishant Kumar, David Verbeek, and Jan-Patrick Barnert
Before it's here, it's on the Bloomberg Terminal.
LEARN MORE