China Money-Market Price Spike Scare Corrected, Traders Say
Bloomberg News
Some rates were wrong and have been fixed, traders say

Any drastic jump in 7-day repo to be negative: analyst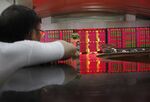 China's money-market traders were in for a fright early Wednesday, with borrowing costs showing a surge before settling at more moderate levels.
Some opening prices were wrong because of calculation problems, according to four traders who cited an announcement from the National Interbank Funding Center. The rates were later corrected, they said. The starting price for the center's seven-day and overnight repurchase rates were 2.65 percent and 2.55 percent, respectively, rather than the erroneous 3.44 percent and 2.98 percent reflected in the morning, the traders added.
The incident comes at a sensitive time for China's money market, with an official deleveraging drive pushing up borrowing costs and hurting bonds. The authorities are showing no signs of a let-up, with the People's Bank of China saying this month that it plans to include negotiable certificates of deposit in its assessment of some banks' interbank liabilities.
"The opening price usually is a strong policy intention signal, so any drastic jump will have a negative impact on sentiment," said Shi Lei, chairman of investment advisory Attractor Adviser Ltd. in Shanghai. "But today was OK because at least the rate was quickly corrected and funding conditions have slightly stabilized from yesterday."

The weighted average seven-day repo rate -- based on prices from the National Interbank Funding Center -- also jumped early. This is unusual because the rate generally opens lower in the mornings before trending either way.
The one-week weighted average rose two basis points to 2.91 percent as of 5:15 p.m. in Shanghai, down from an early price of 3.44 percent that would have been the highest since April 2015. The overnight rate was at 2.87 percent, compared with 3 percent earlier.
The China Foreign Exchange Trade System didn't immediately reply to a fax seeking comment.
"Now the market is rather tight, but still stable and there's no panic, but this is temporary and funding conditions may tighten further," said Shi Lei.
— With assistance by Xize Kang, Ling Zeng, Shuqin Ding, Justina Lee, and Helen Sun
Before it's here, it's on the Bloomberg Terminal.
LEARN MORE