Venezuela Scorns Threat of Sanctions: 'We Kneel for No One'
By
Nation has readied measures for financial and oil 'blockade'

America has already levied sanctions on top regime officials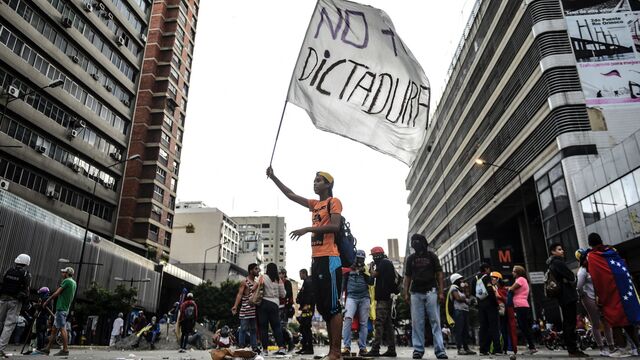 President Nicolas Maduro said Venezuela's authoritarian regime is prepared for additional retaliation from the U.S., one of the crisis-torn nation's principal trade partners, including wide-reaching sanctions on its beleaguered economy and oil industry.

"I have prepared a set of decisions and measures to defend us against commercial, financial or oil blockades that Donald Trump will decree," Maduro told reporters at press conference Tuesday.
The U.S. in recent weeks has slapped a raft of sanctions on Venezuelan officials, including Maduro, as the socialist government has moved to consolidate power amid months of bloody protests and a crippling recession. Despite repeated warnings of economic punishment, Maduro has plowed forward and this month installed a legislative super body, known as a constituyente, to rewrite his nation's charter and crack down on opponents.
The nations have been at loggerheads in recent weeks after comments by President Trump that the U.S. was considering a "military option" if the Venezuelan crisis continued to escalate. While Trump's comments have since been soft-pedaled, Vice President Mike Pence said last week that the U.S. was still willing to bring the "full weight"of economic sanctions to push for new elections.
Vatican Intercession
In his address, Maduro called on the leader of the Catholic Church, Pope Francis, to ward off any potential U.S. aggression and help repair ties between the countries. Last year, the Vatican mediated dialogues between Venezuela's dueling factions. Although the talks stalled and violent protests have since engulfed the nation, claiming over 120 lives, Maduro insisted Tuesday that he was still engaged in discussions with the opposition.
"I ask for the help of the pope against the military threat of the United States," Maduro said. "Please don't abandon me, please don't abandon us."
Wide-reaching financial measures by the U.S. could prove devastating, given the countries' close economic ties and the dire state of Venezuela's finances. The U.S. buys about a third of Venezuela's crude-oil production, and is the main buyer that pays in cash.
Unbowed Nation
On Tuesday, Maduro played down the potential damage of a U.S. embargo on Venezuela's oil, the country's economic lifeblood.
"Venezuela will not be strangled by anyone," he said. "We kneel for no one."
While relations with the U.S. have grown frigid in recent years, Venezuela has kept increasingly warm commercial and financial ties with Russia. Maduro said he expected to soon to visit Vladimir Putin -- calling him the world's principle leader and a "a man of peace" -- to discuss energy, food and defense accords.
Despite the escalating tensions, the president reiterated his willingness to hold a a conversation with his U.S. counterpart. "Only by talking do we understand each other," Maduro said. "President Trump, whatever happens in our future relations, we have to speak."
— With assistance by Noris Soto
Before it's here, it's on the Bloomberg Terminal.
LEARN MORE