Trade War Tops List of Worries for Singapore's Foreign Minister
By and
Balakrishnan says low risk of shooting war in South China Sea

Minister says the real game in town is the digital revolution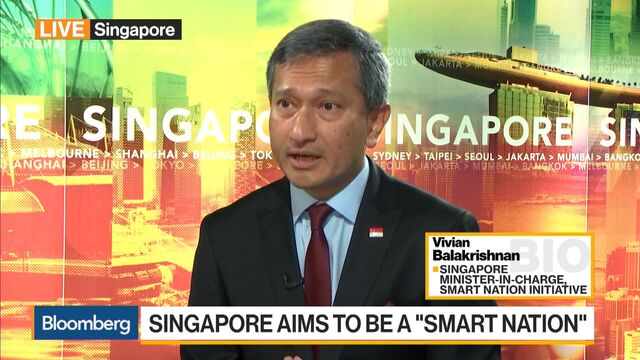 Singapore's Foreign Minister Vivian Balakrishnan called on the U.S. and China to avoid a trade war while urging nations to stop trying to protect obsolete jobs.

"I'm most worried about a trade war," Balakrishnan said in an interview with Bloomberg Television's Haslinda Amin on Tuesday. "I want to make this point: don't blame trade. The real game in town is the digital revolution."
Singapore is one of the world's most trade-reliant economies, with exports more than double the size of its gross domestic product. The government has cited rising trade protectionism as one of the key risks to its economic outlook.
China and the U.S. were intertwined like never before in terms of trade and investment, Balakrishnan said, making the current tensions incomparable with the Cold War rivalry between Washington and Moscow.
"We need cool heads to prevail, we need to stop blaming trade," Balakrishnan said. "We need to work together. We need to create a zone of interdependence, mutual investment, and then reap the fruits of this technological and digital revolution."
The city-state's long held policy of not taking sides in the growing U.S.-China rivalry has been tested over the past 12 months by Beijing's increased economic might and U.S. President Donald Trump's uncertain Asia policy.
Strained Relationship
China is Singapore's biggest trading partner and a key market for high-end electronic exports, such as semiconductors. Singapore is also China's second-largest investor, with $6.18 billion last year, according to official China figures.
The relationship between Singapore and China had recently experienced a number of "setbacks," Chinese Foreign Minister Wang Yi said after a meeting with Balakrishnan earlier this month. The two countries have conducted close exchanges to ensure the healthy development of future bilateral relations, Wang said.
In May, Singapore was left off China's formal invitation list to attend the Belt and Road summit in Beijing, and earlier this month Singapore revoked the permanent residency of a prominent Chinese-American academic after he allegedly used his position to covertly advance the agenda of an unnamed foreign country at Singapore's expense.
Nine Singapore Armed Forces carrier vehicles were seized by Hong Kong authorities last November en route to Singapore after being used in training exercises in Taiwan.
Balakrishnan urged continued peace and stability in the South China Sea where he said he thought "the risk of war is very low."
— With assistance by Stephanie Phang
Before it's here, it's on the Bloomberg Terminal.
LEARN MORE