Senator's Bribery Trial May Hinge on What 'Official Acts' Means
By and
N.J.'s Menendez accused of taking campaign cash from donor

Guilty verdict could strengthen Republicans' grip on Senate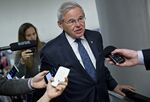 Follow @bpolitics for all the latest news, and sign up for our daily Balance of Power newsletter.
The question of whether Robert Menendez will remain one of the most powerful Democrats in the U.S. Senate or go to prison could turn on whether favors he did for a large donor are deemed "official acts."
The trial, set to start Sept. 6, is expected to feature dry discussions about Medicare reimbursement policy as well as tawdry testimony about how Salomon Melgen, a married Florida eye doctor, sought visas for girlfriends from Brazil, Ukraine and the Dominican Republic. Melgen is accused of bribing Menendez for his help with the visas and other government disputes involving Medicare overbilling and a Dominican port contract.
Prosecutors say Menendez, a U.S. senator from New Jersey since 2006, engaged in "official acts" to help Melgen. Defense lawyers say Menendez's phone calls and meetings on Melgen's behalf were not official acts -- but rather a longtime friend helping another out. 
The U.S. Supreme Court narrowed the definition of official acts last year when it set aside the conviction of former Virginia Governor Bob McDonnell. The high court said prosecutors must prove that an official act involved a formal exercise of power and be "something specific and focused" pending before a public official.
"It's harder today for the government to prove what constitutes an official act," said Adam Lurie, a former federal prosecutor. "They have to prove that what the senator did is something he actually had control over. The McDonnell case has really muddied the water."
'Stream of Benefits'
Jury selection began Tuesday in Newark, New Jersey, where the trial is expected to last about two months. As he walked into the courthouse, Menendez said: "I'm looking forward to picking a good jury. As I've said all along, I expect to be exonerated."
Court security officers barred entry to the courtroom for almost two hours on Tuesday morning while Menendez, Melgen and lawyers on the case were inside. Menendez and Melgen were arraigned on a revised indictment and pleaded not guilty. Lawyers said they also discussed scheduling and jury selection procedures. 
No explanation was provided on why U.S. District Judge William Walls sealed the courtroom. Arraignments are almost always public. 
After that, Walls questioned potential jurors, with Menendez whispering at times to his lawyer, Abbe Lowell. When Lowell couldn't find his notes on Juror 19, the senator found them for him. By day's end, the lawyers appeared to agree on a panel of eight women and four men. But after sidebar conferences, Walls dismissed two of the women. 
The judge also chided another potential juror who works as a teacher and had been texting on her phone in the courtroom about the jury, despite his admonitions to not discuss the case. Spectators could hear the judge say at a sidebar conference: "You're no good as a juror. You might not be any good as a teacher." Jury selection resumes Wednesday.
Prosecutors say Melgen gave hundreds of thousands of dollars in campaign contributions to support Menendez, as well as trips on private jets and a three-night stay at a Paris hotel valued at $4,934. They allege Menendez received a "stream of benefits" and acted on behalf of Melgen "as opportunities arose," including in a Medicare overbilling dispute, a contract standoff with the Dominican Republic, and visa applications for the girlfriends.
Menendez and Melgen are charged with conspiracy, bribery, honest-services fraud and violating the Travel Act, which prohibits foreign travel for the purpose of committing crimes. Menendez is also accused of making false statements by failing to disclose Melgen's gifts on ethics forms.
The outcome could have important implications for the balance of power in the U.S. Senate. Republicans hold 52 seats, with Democrats controlling 46 and counting on two independents who caucus with them.
If Menendez is convicted and resigns, appointing a replacement falls to the New Jersey governor. Republican Chris Christie leaves office on Jan. 16, and a Democrat is strongly favored in the race to succeed him.
"The big thing is whether this would play out sooner than that, giving Republicans one more seat with which to work," said Bruce Oppenheimer, a political science professor at Vanderbilt University.
Remote Possibility
In all likelihood, Menendez's seat will remain in Democratic hands. If he's convicted, two-thirds of the Senate would still have to vote to expel him. That would require at least a dozen Democrats to vote for his ouster -- a remote possibility in the divided Senate. If Menendez were to resign, he could also try to delay it until a Democrat takes office.
In the governor's race, an NBC 4 New York/Marist Poll last month had Democrat Philip Murphy with 54 percent support to Republican Kim Guadagno's 33 percent.
The Menendez case has already spawned legal skirmishes, including accusations that the Justice Department engaged in prosecutorial misconduct. FBI agents interviewed more than 200 witnesses, including three girlfriends of Menendez and three of Melgen. Judge Walls ruled that prosecutors and agents acted properly.
Walls hasn't ruled on whether Menendez's actions constituted official acts and may leave that question to the jury. Defense lawyers say Menendez didn't engage in a "formal exercise of governmental power" as defined by the Supreme Court.
Before it's here, it's on the Bloomberg Terminal.
LEARN MORE