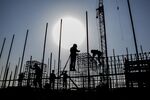 With China putting the brakes on acquisitions it deems irrational, it's time to look at what deals may get Beijing's blessing.
The verdict: Either they'll be tough to pull off (think technology and commodity transactions) 1 or they will be linked to President Xi Jinping's One Belt, One Road initiative, and may not be profitable for some time.
On Friday, China's State Council and the National Development and Reform Commission formally codified the no-go areas for mainland firms. Industries favored by serial acquirers made the black list, including real estate, hotels, cinemas, other entertainment facilities and sports clubs. Authorities are also curbing activity in more controversial areas such as gambling, defense and sex.
That leaves state-owned enterprises with limited choices.
Investment bankers will be keen to help Chinese firms acquire technological know-how, but under the more protectionist Trump administration, there is likely to be significant push back. The Committee on Foreign Investment in the U.S. is increasingly weighing in, even when the target isn't American. Key tests include whether Alibaba Group Holding Ltd.'s Jack Ma will be successful in acquiring MoneyGram International Inc., and the pending sale of Nissan Motor Co.'s battery business.
Protectionism is also rife in commodities deals, which tend to involve big-ticket purchases.

To top it off, commodities transactions can easily sour, as China found when the cycle turned a few years ago. Cnooc Ltd. is still recovering from its multibillion-dollar acquisition in 2013 of Canadian oil and gas company Nexen Inc. just before oil prices crashed.
That leaves infrastructure projects in the Belt and Road countries that China has identified to help create a modern-day Silk Road connecting central Asia, Europe and Africa. Salable assets in many of those nations, however, are problematic because some of the countries don't have stable political systems. China is still trying to finance a high-speed rail network in Iran as its attempts to build a similar one in Thailand have been hobbled by delays.
Chinese banks, meanwhile, are shouldering much of the risk. The Maldives' inaugural dollar bond was arranged solely by Bocom International Holdings Co., the securities arm of China's fifth-biggest bank.

With few in the private sector convinced of the financial merits of One Belt, One Road, a large chunk of money is steering clear. Even Chinese banks haven't exactly piled in -- outbound investment along the Silk Road route was $14.5 billion in 2016, down 2 percent from a year earlier, according to Bloomberg Intelligence.
While China has plenty of capital to invest, it will have its work cut out getting the deals done that it actually needs. A rational approach, maybe, but certainly not an easy one.
Before it's here, it's on the Bloomberg Terminal.
LEARN MORE