Polish Government Pressured Over Response to Deadly Summer Storm
By
Critics say ministers moved too slowly to help storm victims

Mayor says ruling party tried "blackmail" to keep him quiet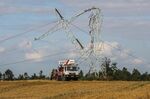 Poland's government is coming under pressure for its response to one of the strongest summer storms in years that left 200,000 households and businesses without power.
Critics have said the government was slow to react to the Aug. 11 windstorms, which killed six people, damaged thousands of homes and destroyed 38,000 hectares (93,400 acres) of forests across northern Poland. The mayor of a city in a region affected by the weather said that ruling-party politicians threatened to cut aid if he stays critical of the government.
Prime Minister Beata Szydlo and her cabinet have defended themselves by saying that they actively managed the crisis from the start, but avoided early visits to the affected areas that could be seen as self-promotion. The criticism threatens to undermine support for the Law & Justice party, which won power two years ago in part by by promising to stand up for ordinary Poles which they said were ignored by the previous administrations.
"I was personally blackmailed by Law & Justice lawmakers, who said if I'm submissive, then Slupsk will get support," Robert Biedron, the mayor of the 92,000-person city, who isn't affiliated with any major political group, told private broadcaster TVN24. The ruling party is making a "fundamental mistake" by centralizing power, while it's the locally elected officials who "know better" what's needed in crisis situations, he said.
Law & Justice lawmaker Ryszard Czarnecki told reporters in parliament in Warsaw that if Biedron's accusations were real, he should have immediately notified the prosecutors' office, but believes they may just be "blah blah."
Stuck in the Mud
The opposition has condemned government relief efforts after the head of the Rytel village, about 100 km (62 miles) southwest of Gdansk, said he had to wait two days to get military assistance to clear roads and waterways of debris and ward off the risk of flooding. When Defense Minister Antoni Macierewicz visited the region four days after the storm, to check on how the army was helping out, his vehicle got stuck in the mud and locals had to help pull it free, according to photographs splashed across tabloids and the Internet.
Municipalities also complained that weather alerts distributed by the central government's crisis-management units underestimated the magnitude of the storm. Interior Minister Mariusz Blaszczak said in Warsaw on Tuesday that the government was focused on calculating the damage and would evaluate the country's response to the calamity later.
Szydlo's government has tightened its grip over courts, public media and state-controlled companies, which has triggered an unprecedented threat by the European Union to impose sanctions on a member nation for breaches in the rule of law.
Before it's here, it's on the Bloomberg Terminal.
LEARN MORE